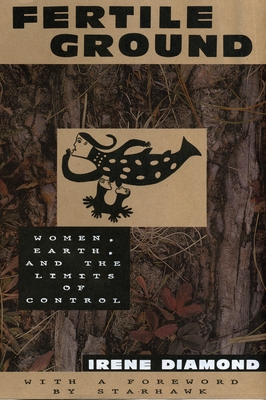 Fertile Ground: Women, Earth, and the Limits of Control (Paperback)
Women, Earth, and the Limits of Control
Beacon Press, 9780807067734, 224pp.
Publication Date: November 25, 1997
Description
Irene Diamond has written a passionate and provocative book that challenges the feminist movement to step beyond its preconceptions. . . . We desperately need this synthesis. -from the Foreword by Starhaw

In a wide-ranging critique of Western thought and practice, ecofeminist Irene Diamond raises unsettling questions about the ethic of control that permeates how we think about fertility, sexuality, agriculture, and the environment.
About the Author
Irene Diamond teaches political science and women's studies at the University of Oregon. Her previous books include Sex Roles in the State House and the coedited volumes Feminism and Foucault: Reflections on Resistance and Reweaving the World: The Emergence of Ecofeminism.
Praise For Fertile Ground: Women, Earth, and the Limits of Control…
Provocative. . . . Assumes passion and authority. -Janet Lembke, The New York Times Book Review"Irene Diamond offers her readers a provocative series of musings on a vital, but largely unexplored, concept: fertility. . . . Diamond's scope is wide-ranging, addressing reproductive technologies, agriculture, pornography, development and death, yet her work also has a highly personal quality. . . . As an intuitive foray, Fertile Ground sows many new seeds." -Karen Litfin, The Ecologist

"Irene Diamond's Fertile Ground is a provocative book. It stirs me to vigorous assent. It also triggers wide-eyed disbelief. . . . As it prods me to explosions of disagreement, it also provokes useful thought." -Janet Lembke, The New York Times Book Review

"One of the most provocative and original feminist books in years. . . . Diamond poses important questions and breaks ground for new thought about them." -Pat Monaghan, Booklist
Advertisement