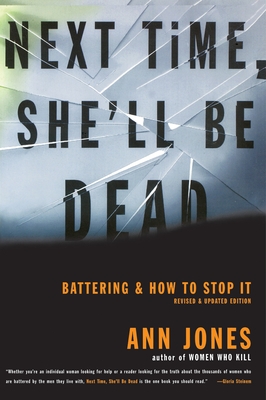 Next Time, She'll Be Dead (Paperback)
Battering and How to Stop It
Beacon Press, 9780807067895, 320pp.
Publication Date: March 31, 2000
* Individual store prices may vary.
Description
This revised and updated edition of "the most critically acclaimed book" (Publishers Weekly) on domestic violence includes new information on the effect of the 1994 Violence Against Women Act, examines resources on the Internet, and details what you can do to help stop battering.<
About the Author
Ann Jones is author of the international best-seller Women Who Kill and coauthor of When Love Goes Wrong.
Praise For Next Time, She'll Be Dead: Battering and How to Stop It…
Whether you're an individual woman looking for help or a reader looking for the truth about the thousands of women who are battered by the men they live with, Next Time, She'll Be Dead is the one book you should read. -Gloria Steinem

"Ann Jones's excellent and lucidly written book should be read by judges, doctors, police officers, journalists and social workers. . . . Next Time, She'll Be Dead brings to light the secret history of the undeclared war on women in America." -Kim Wozencraft, New York Newsday

"[Ann Jones] is angry and constructive at the same time. She conveys an intelligent analysis of violence and victimhood. And she offers a well-conceived . . . blueprint for social and institutional change." -Rickie Solinger, The New York Times Book Review

"A convincing and meticulously researched case that America's judicial, law enforcement and legal response to the problem [of battering] makes it impossible for women to live free from bodily harm." -Marissa E. Ghez, San Francisco Chronicle

"A grim, well-researched primer of the damage done to women, not just by men they know but by the criminal-justice system that is supposed to help them." -The Washington Post

"Anyone who has seen news reports about women maimed or killed by abusive spouses or boyfriends and asked, 'Why didn't she just leave?' needs this book." -Jacquelynn Boyle, Chicago Tribune

"Next Time, She'll Be Dead implodes any complacency one might have that having 'come a long way' in this area is anywhere close to far enough." -Angela Browne, The Boston Globe