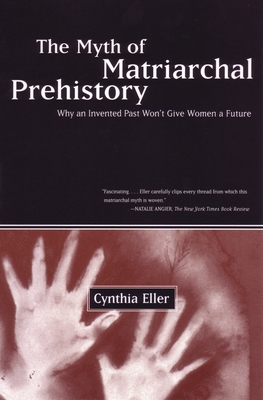 The Myth of Matriarchal Prehistory (Paperback)
Why an Invented Past Won't Give Women a Future
Beacon Press, 9780807067932, 288pp.
Publication Date: April 13, 2001
* Individual store prices may vary.
Description
According to the myth of matriarchal prehistory, men and women lived together peacefully before recorded history. Society was centered around women, with their mysterious life-giving powers, and they were honored as incarnations and priestesses of the Great Goddess. Then a transformation occurred, and men thereafter dominated society.

Given the universality of patriarchy in recorded history, this vision is understandably appealing for many women. But does it have any basis in fact? And as a myth, does it work for the good of women? Cynthia Eller traces the emergence of the feminist matriarchal myth, explicates its functions, and examines the evidence for and against a matriarchal prehistory. Finally, she explains why this vision of peaceful, woman-centered prehistory is something feminists should be wary of.
About the Author
Cynthia Eller is the author of Living in the Lap of the Goddess: The Feminist Spirituality Movement in America, a Choice Outstanding Academic Book of 1994, and of Conscientious Objectors and the Second World War. She is assistant professor of women and religion at Montclair State University.
Praise For The Myth of Matriarchal Prehistory: Why an Invented Past Won't Give Women a Future…
Fascinating. . . . Eller carefully clips every thread from which this matriarchal myth is woven. -Natalie Angier, The New York Times Book Revie"Passionately argued, engagingly written, this vital book is certain to inspire wide-and much-needed-debate." -Publishers Weekly (starred review)

"[An] engaging critique of a popular but perhaps self-defeating belief." -Mark Odegard, Utne Reader

"In unraveling the pretensions of matriarchalists, Eller seeks to show that wider matters are at stake. . . . Matriarchal myth, [she] argues, is actively harmful at worst and at best unnecessary." -Lawrence Osborne, Salon.com