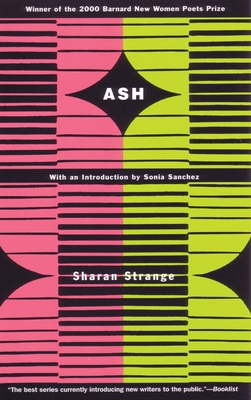 Ash (Paperback)
Beacon Press, 9780807068632, 84pp.
Publication Date: June 1, 2001
Description
Sharan Strange's poetry brings to life the lush mysteries and brutalities of growing up in a rural Southern town. At once a portrait of a community and the poet, Ash traces that alchemy by which the life stories of those around us are transmuted into our own.
About the Author
Sharan Strange grew up in Orangeburg, South Carolina, was educated at Harvard College, and received the M.F.A. in poetry from Sarah Lawrence College. She is a contributing and advisory editor of Callaloo and cofounder of the Dark Room Collective. Her poetry has appeared in Agni, The American Poetry Review, Callaloo, The Best American Poetry 1994, The Garden Thrives, In Search of Color Everywhere, and in exhibitions at the Whitney Museum in New York and the Institute of Contemporary Art in Boston.
Praise For Ash…
"Ash embodies a voice we can count on, informed by the grace and wit of the South. Sharan Strange has wrested these poignant poems out of experience and imagination, and they sizzle with a deep knowing. Family and neighborhood are unique and universal. We know these people and places through a painful and joyful directness-everything that is noble in its full telling rises from Ash and touches us." -Yusef Komunyakaa, author of Talking Dirty to the Gods and the Pulitzer Prize-winning Neon Vernacular

"What I cherish so much in Sharan Strange's poetry is her ability to firmly locate time-tested insight-what our ancestors called common sense-securely and consistently in everyday experience. The results render a depth of articulation so provocative that the poetry becomes a positive and permanently useful part of the reader's psyche." -Clarence Major, editor of The Garden Thrives: Twentieth-Century African-American Poetry
Advertisement