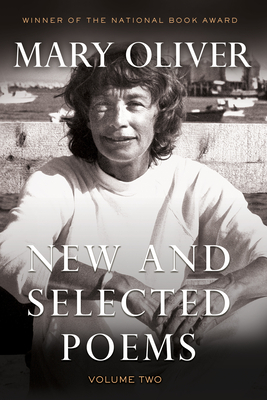 New and Selected Poems, Volume Two (Paperback)
Beacon Press, 9780807068878, 192pp.
Publication Date: April 15, 2007
* Individual store prices may vary.
Description
Mary Oliver has been writing poetry for nearly five decades, and in that time she has become America's foremost poetic voice on our experience of the physical world. This collection presents forty-two new poems-an entire volume in itself-along with works chosen by Oliver from six of the books she has published since New and Selected Poems, Volume One.
About the Author
Mary Oliver, winner of the Pulitzer Prize for poetry, is one of the most celebrated and best-selling poets in America. Her books include Why I Wake Early, Owls and Other Fantasies, House of Light, Dream Work, White Pine, West Wind, The Leaf and the Cloud, and What Do We Know, as well as four books of prose, including Blue Pastures, Rules for the Dance, and Winter Hours. She lives in Provincetown, Massachusetts.


From the Hardcover edition.
Praise For New and Selected Poems, Volume Two…
It has always seemed, across her 15 books of poetry, five of prose and several essays and chapbooks, that Mary Oliver might leave us at any minute. Even a 1984 Pulitzer Prize couldn't pin her to the ground. She'd change quietly into a heron or a bear and fly or walk on forever. —Susan Salter Reynolds, Los Angeles Times

"Oliver's poetry is of the Earth, and about the Earth, and as these poems give voice to the planet, they render human life more beautiful, more sentient, more meaningful." —Karen McCarthy, ForeWord

"These are life-enhancing and redemptive poems that coax the sublime from the subliminal." —Sally Connolly, Poetry

"Mary's Oliver poetry is fine and deep; it reads like a blessing. Her special gift is to connect us with our sources in the natural world, its beauties and terrors and mysteries and consolations." —Stanley Kunitz

"Oliver's poems are thoroughly convincing—as genuine, moving, and implausible as the first caressing breeze of spring." —New York Times Book Review