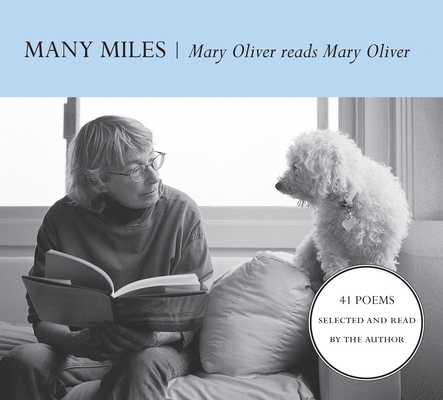 Many Miles
Mary Oliver reads Mary Oliver
CD-Audio

* Individual store prices may vary.
Description
Following the success of At Blackwater Pond, this second CD from best-selling poet Mary Oliver contains a selection of thirty-seven previously published poems and four as yet uncollected, read by the poet in her steady, magnetic voice. Oliver recites from the full range of her poetry-from her classic nature writing, to her verses for her mischievous bichon Percy, to her ever-deepening spiritual poems. The CD comes in a handsome full-cloth package that includes a booklet with an introductory essay by the poet on the magical dynamic between speaker and listener, a table of contents, text of the title poem, and a photo of the poet. Many Miles will be a most welcome addition to the collections of her readers.
Praise For Many Miles: Mary Oliver reads Mary Oliver…
Steep some tea, curl up on the couch, and listen. Listen as Mary Oliver bears witness to grace and wonder within and without. Savor her words. Let them wash over you, buoy you, remind you what truly matters. Packaged as a CD-sized hardcover book, this exquisite audio collection is a perfect gift—for oneself or another—inspiring us to live from the heart of wonder, to stand where we are and be blessed.—Nan Macy, Village Books, Bellingham, WA

Praise for Mary Oliver:

"In clear, crisp studio sound, Oliver's voice comes across insistent and calming."—Publishers Weekly

"Gloriously alive, inquisitive, and welcoming. A prolific and cherished poet, [Oliver] makes readers feel as though they've been part of the quest for wisdom and grace she records in her lucid, giving, prayerful poems.... Within each lifting lyric, Oliver declares all of life holy."—Donna Seaman, Booklist
Beacon Press, 9780807068953
Publication Date: April 1, 2010
About the Author
A private person by nature, Mary Oliver (1935–2019) gave very few interviews over the years. Instead, she preferred to let her work speak for itself. And speak it has, for the past five decades, to countless readers. The New York Times recently acknowledged Mary Oliver as "far and away, this country's best-selling poet." Born in a small town in Ohio, Oliver published her first book of poetry in 1963 at the age of 28; No Voyage and Other Poems, originally printed in the UK by Dent Press, was reissued in the United States in 1965 by Houghton Mifflin. Oliver has since published twenty books of poetry and six books of prose. As a young woman, Oliver studied at Ohio State University and Vassar College, but took no degree. She lived for several years at the home of Edna St. Vincent Millay in upper New York state, companion to the poet's sister Norma Millay. It was there, in the late '50s, that she met photographer Molly Malone Cook. For more than forty years, Cook and Oliver made their home together, largely in Provincetown, Massachusetts, where they lived until Cook's death in 2005. Over the course of her long and illustrious career, Oliver has received numerous awards. Her fourth book, American Primitive, won the Pulitzer Prize for Poetry in 1984. She has also received the Shelley Memorial Award; a Guggenheim Fellowship; an American Academy and Institute of Arts and Letters Achievement Award; the Christopher Award and the L.L. Winship/PEN New England Award for House of Light; the National Book Award for New and Selected Poems; a Lannan Foundation Literary Award; and the New England Booksellers Association Award for Literary Excellence. Oliver's essays have appeared in Best American Essays 1996, 1998, 2001; the Anchor Essay Annual 1998, as well as Orion, Onearth and other periodicals. Oliver was editor of Best American Essays 2009. Oliver's books on the craft of poetry, A Poetry Handbook and Rules for the Dance, are used widely in writing programs. She is an acclaimed reader and has read in practically every state as well as other countries. She has led workshops at various colleges and universities, and held residencies at Case Western Reserve University, Bucknell University, University of Cincinnati, and Sweet Briar College. From 1995, for five years, she held the Catharine Osgood Foster Chair for Distinguished Teaching at Bennington College. She has been awarded Honorary Doctorates from The Art Institute of Boston (1998), Dartmouth College (2007) and Tufts University (2008).