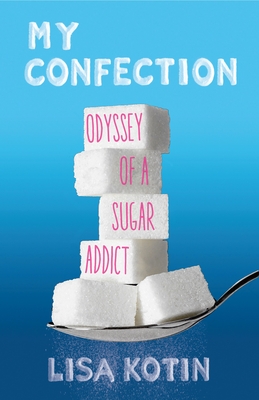 My Confection
Odyssey of a Sugar Addict
Paperback

* Individual store prices may vary.
Description
A funny, candid, and original coming-of-age story told through sugar addiction

She doesn't drink or do drugs, but like millions of other Americans, Lisa Kotin has a substance abuse problem. Kotin is addicted to sugar. My Confection is a darkly funny and candid memoir of where sugar took this teenage mime when she left her San Francisco Bay Area home in pursuit of artistic greatness. From the strict macrobiotic house where she is kicked out for smuggling Snickers, to her early days of Overeaters Anonymous meetings where she is bewildered by the idea of submitting to a higher power, to the stylish shrink who suggests she figure out how many minutes of tennis equal the calories in one jelly donut, to the men she unwraps and consumes like cheap chocolate bars, Kotin careens from romantic disasters to caloric catastrophes. Original and surprisingly affecting, this portrait of a sugar addict has nothing to do with losing weight or getting fit but rather with coming out of the (sugar) closet, finding allies who understand, and learning how to live healthfully, in spite of her compulsion.
Praise For My Confection: Odyssey of a Sugar Addict…
"Kotin, a director and actor living in Los Angeles, describes herself as being a sugar addict from a young age. Though this frank memoir recounts the author's early family life, the majority of her story is devoted to the chaos that the addiction created during her 20s. Kotin chronicles her constant feeling of emptiness, discomfort with her body, troubled family relationships, casual and disappointing sexual and romantic relationships, and an inability to settle on a career path. When life becomes hard and Kotin's self-loathing sets in, she turns to soothing herself with copious amounts of sugar-laced foods. Kotin describes devouring dozens of cookies or an entire loaf of freshly baked bread—the bread so hot that it burns and blisters her mouth. Health issues begin to plague her, and following a serious scare, Kotin seeks help. Thirty years after her initial rejection of Overeaters Anonymous, Kotin finds a haven within that group. Her narrative makes for exhausting reading, but it convincingly depicts the decades-long emotional and physical traumas she endured."
—Publishers Weekly

"[T]he author is dedicated to showing the whole ugly process of coming to terms with addiction, and her honesty makes her plight palpable."
—Kirkus Reviews

"The narrative is by turns bawdy, hilarious, and heart-wrenching, and readers will be moved by the author's candid look at the very real addictive power of sugar."
—Booklist

"A delicious morsel of memoir writing that will strike a chord with junk-food junkies and their clean living counterparts."
—Library Journal

"I am blown away by Kotin's candor and clarity. My Confection is a devastatingly witty, courageous and soul-baring memoir detailing one woman's search for healing in the face of addiction. If ever anyone doubted the scientific finding that sugar can be more addictive than cocaine, they should read this book."
—Eve O. Schaub, author of Year of No Sugar

"My Confection is a gutsy and gripping memoir by Lisa Kotin, who offers a poignant, eye-opening, and sometimes humorous look into the tortured soul of a sugar addict. If you're among the millions who devour sweets or fast carbs, I urge you to read this book, which reveals what scientists have recently discovered—that sugar is more addictive than cocaine."
—Connie Bennett, author of Sugar Shock and Beyond Sugar Shock
Beacon Press, 9780807069257, 248pp.
Publication Date: January 5, 2016
About the Author
Lisa Kotin is a writer, director, actor, and performance artist based in Los Angeles. She graduated from New York University's Tisch School of the Arts and went on to perform original shows combining physical comedy, monologues, and short films in the United States and United Kingdom. Kotin's show Temporary Girl, which drew upon her experiences at 100+ temp jobs, is about a dysfunctional family as seen through the eyes of an office temp, and was adapted into a movie that Leonard Maltin praised as "bright and original, with the definite ring of truth."
or
Not Currently Available for Direct Purchase