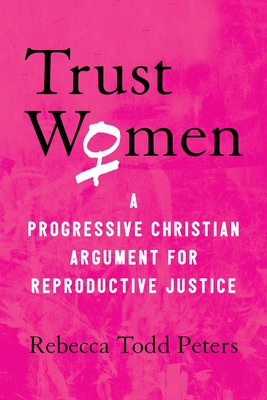 Trust Women
A Progressive Christian Argument for Reproductive Justice
Hardcover

* Individual store prices may vary.
Other Editions of This Title:
Paperback (2/26/2019)
Description
In an age in which women's reproductive rights are increasingly under attack, a minister and ethicist offers a stirring argument that abortion can be a moral good

Here's a fact that we often ignore: unplanned pregnancy and abortion are a normal part of women's reproductive lives. Roughly one-third of US women will have an abortion by age forty-five, and fifty to sixty percent of the women who have abortions were using birth control during the month they got pregnant. Yet women who have abortions are routinely shamed and judged, and safe and affordable access to abortion is under relentless assault, with the most devastating impact on poor women and women of color.

Rebecca Todd Peters, a Presbyterian minister and social ethicist, argues that this shaming and judging reflects deep, often unspoken patriarchal and racist assumptions about women and women's sexual activity. These assumptions are at the heart of what she calls the justification framework, which governs our public debate about abortion, and disrupts our ability to have authentic public discussions about the health and well-being of women and their families.

Abortion, then, isn't the social problem we should be focusing on. The problem is our inability to trust women to act as rational, capable, responsible moral agents who must weigh the concrete moral question of what to do when they are pregnant or when there are problems during a pregnancy.

Ambitious in method and scope, Trust Women skillfully interweaves political analysis, sociology, ancient and modern philosophy, Christian tradition, and medical history, and grounds its analysis in the material reality of women's lives and their decisions about sexuality, abortion, and child-bearing. It ends with a powerful re-imagining of the moral contours of pre-natal life and suggests we recognize pregnancy as a time when a woman must assent, again and again, to an ethical relationship with the prenate.
Praise For Trust Women: A Progressive Christian Argument for Reproductive Justice…
"A courageous, personal book. . . This theologically astute and social justice–minded book will appeal to progressive Christians who are interested in reclaiming abortion as an issue of women's health and could easily become part of the required reading for an array of university courses."
—Publishers Weekly, Starred Review

"Offers a compelling case for radically revising the way we think and speak about women's reproductive experience. . . . While written specifically for Christians, this will be a valuable read for anyone who questions the pronatalism and misogyny that constrains reproductive decision-making in the United States and seeks to shift our public debate in a more just direction."
—Library Journal, Starred Review

"[Trust Women] will pave the way for more accounts that connect faith and reproductive justice, but it also shows how hard it is to escape the access focus of reproductive rights."
—Rewire News

"In Trust Women, Rebecca Todd Peters lays bare the real question underlying the abortion debate: whether or not women can be trusted to make their own decisions. She is compassionate and clear-eyed in constructing her faith-based case for abortion, and her voice cuts through the noise to affirm what we at Planned Parenthood have long believed: the best arbiter of a woman's reproductive destiny is herself."
—Cecile Richards, president of the Planned Parenthood Federation of America and president of the Planned Parenthood Action Fund

"Rebecca Todd Peters pivots away from Christian fatalism about women and sex, baked-in misogyny about women's morality, and patriarchal legislation controlling women's bodies. Creating new language and new ethical theory, she applies an intersectional reproductive justice framework to persuasively argue that reframing abortion as a moral good for women begins with trusting women to be moral decision makers."
—Loretta Ross, co-editor of Radical Reproductive Justice and co-founder of SisterSong Women of Color Reproductive Justice Collective

"Peters offers us the moral conversation for which we have been waiting. Instead of the polarizing and ahistorical Christian perspective that you have come to expect on this topic, be prepared to read something that makes you think through a deeply nuanced and unflinchingly personal lens about abortion, motherhood, and justice."
—Traci C. West, author of Disruptive Christian Ethics: When Racism and Women's Lives Matter

"Dr. Peters exposes the unethical framework that for years has been the foundation of antiabortion politics and policies. Highlighting the systemic devaluation and marginalization of women, especially those of color and who are poor, Peters' work exposes the hypocrisy of the religio-legislative narrative of abortion as attacks against the most vulnerable. This is an important book for physicians, clergy, legislators, justice advocates, and those who seek to understand critical debates about life!"
—Rev. Dr. Cari Jackson, Religious Coalition for Reproductive Choice

"Rebecca Todd Peters, in a creative, elegant, and timely move, changes the Christian ethical question from the morality of abortion to the morality of choosing motherhood. She exchanges a justification model for one steeped in reproductive justice so women's many choices can be respected."
—Mary E. Hunt, co-founder and co-director of the Women's Alliance for Theology, Ethics, and Ritual (WATER)
Beacon Press, 9780807069981, 248pp.
Publication Date: April 10, 2018
About the Author
Rebecca Todd Peters is Professor of Religious Studies at Elon University. Her work as a feminist social ethicist is focused on globalization, economic, environmental, and reproductive justice. Her books include In Search of the Good Life and Solidarity Ethics. Ordained in the Presbyterian Church (USA), she has been active denominationally and ecumenically for more than twenty-five years and currently represents the PC (USA) as a member of the Faith and Order Standing Commission of the World Council of Churches.