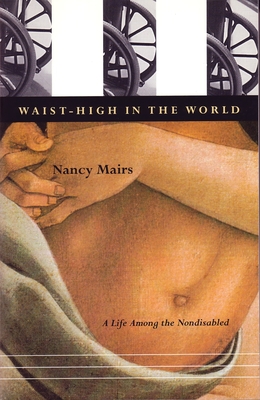 Waist-High in the World: A Life Among the Nondisabled (Paperback)
A Life Among the Nondisabled
Beacon Press, 9780807070871, 224pp.
Publication Date: December 22, 1997
Description
In a blend of intimate memoir and passionate advocacy, Nancy Mairs takes on the subject woven through all her writing: disability and its effect on life, work, and spirit.
About the Author
Nancy Mairs is author of several acclaimed books, including Ordinary Time, Carnal Acts, Remembering the Bone House, and Plaintext. Visit Nancy Mairs' website: www.nancymairs.com.
Praise For Waist-High in the World: A Life Among the Nondisabled…
Graceful yet gritty paradoxes drive this extraordinary book, which uses the author's degenerative disease, multiple sclerosis, as a window into a very particular soul. . . . Let the reader understand: this is not a book about MS, or about illness; rather, it's a chronicle of inspired adaptation, spiritual as well as physical, to limits. The aim is the creation of joy. -Sallie Bingham, The New Mexican

"Woe is not her, as she makes clear throughout this absorbing, laceratingly honest book. . . . This social construction of disability . . . is what Mairs most wants us to 'get' in this passionate, penetrating book-and then get over." -Marian Sandmeier, The Washington Post Book World

"Vintage Mairs: sharply observed, deeply personal and always direct." -Michael Haederle, Los Angeles Times

"As helpful as Mairs's book will be to disabled people, what's most important about it is its lessons for able-bodied readers." -Kathi Wolfe, The Progressive

"Rich, startling and utterly absorbing." -Kirkus Reviews, starred review

"Mairs's physical view of the world may be waist-high, but her intellectual and spiritual range is limitless." -Donna Seaman, Booklist, starred review

"'One sharp instrument is left me: my tongue.' This [Mairs] wields like a finely crafted baton, leading her readers to an ever deeper understanding of the human condition." -Yvonne Duffy, Detroit Free Press
Advertisement