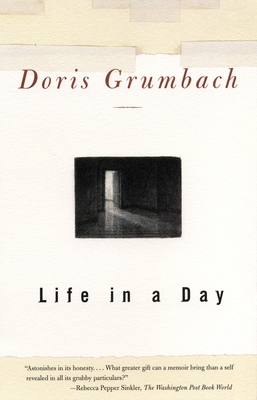 Life in a Day (Paperback)
Beacon Press, 9780807070895, 154pp.
Publication Date: October 1, 1997
Description
"Astonishes in its honesty. . . . What greater gift can a memoir bring than a self revealed in all its grubby particulars?"
-Rebecca Pepper Sinkler, "The Washington Post Book World"
"A diary of a day that encapsulates the memories, reflections, and yearnings of a lifetime as gracefully as a Faberge egg captures spring sunlight in its tiny interior."
-"Kirkus Reviews"
"For Grumbach, living is an adventure on the magic carpet ride of memory, reverie, and imagination."Life in a Day"affirms the ripples of meaning which can emanate out of simple rituals, happenings, and activities."
-Frederic A. Brussat, "Body Mind Spirit"
" "Life in a Day"] illuminates the way memory has woven itself into the fabric of a rich life. . . . To spend a day with Grumbach] is rewarding."
-Patricia Roth Schwartz, "Lambda Book Report"
" A] wise and lovely little book."
-Barbara Holliday, "Detroit Free Press"
"This is a profoundly optimistic book: a validation of the strength and the tranquility to be found within the confines of the human mind."
-"Publishers Weekly," starred review.
About the Author
Doris Grumbach is author of Coming into the End Zone, Extra Innings, and Fifty Days of Solitude, among other books. She has also been a contributing editor to The New Republic and The New York Times Book Review, and a book reviewer for National Public Radio. She lives in Maine.
Praise For Life in a Day…
Astonishes in its honesty. . . . What greater gift can a memoir bring than a self revealed in all its grubby particulars? -Rebecca Pepper Sinkler, The Washington Post Book World

"A diary of a day that encapsulates the memories, reflections, and yearnings of a lifetime as gracefully as a Fabergé egg captures spring sunlight in its tiny interior." -Kirkus Reviews

"For Grumbach, living is an adventure on the magic carpet ride of memory, reverie, and imagination. Life in a Day affirms the ripples of meaning which can emanate out of simple rituals, happenings, and activities." -Frederic A. Brussat, Body Mind Spirit

"[Life in a Day] illuminates the way memory has woven itself into the fabric of a rich life. . . . To spend a day with [Grumbach] is rewarding." -Patricia Roth Schwartz, Lambda Book Report

"[A] wise and lovely little book." -Barbara Holliday, Detroit Free Press

"This is a profoundly optimistic book: a validation of the strength and the tranquility to be found within the confines of the human mind." --Publishers Weekly, starred review
Advertisement