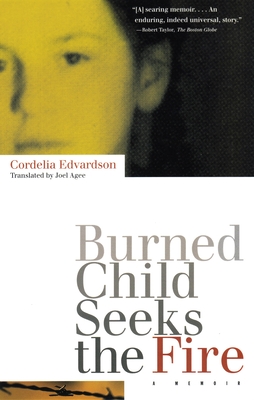 Burned Child Seeks the Fire (Paperback)
Beacon Press, 9780807070956, 116pp.
Publication Date: June 1, 1998
Description
[A] searing memoir. . . . An enduring, indeed universal, story.
Robert Taylor, The Boston Globe

Summoned with her mother to Gestapo headquarters in 1943, fourteen-year-old Cordelia Edvardson was given a terrible choice: to acknowledge her secret Jewish heritage and suffer the consequences or to see her mother charged with treason. Burned Child Seeks the Fire is the true story of the love between this mother and daughter, and a piercing example of the tragedies wrought by Nazi Germany.

"A lacerating, beautifully translated memoir."
Publishers Weekly, starred review

"Mesmerizing. . . . [Has] the concise unreality of a horrifying fairy tale."
Thomas Frick, Los Angeles Times Book Review

"Behind [Edvardson's] deceptively simple prose is a complex and tragic story."
Judith Bolton-Fasman, Newsday

"Cordelia Edvardson's defiant tone challenges us to eschew simplified encounters with the literature and experiences of Holocaust survivors."
Paul H. Hamburg, Jewish Book World

"To see the horrors of the Holocaust through a child's eye is to experience hell. Cordelia Edvardson's astonishing story captures, with a terrifying reality, a child's response to the myriad atrocities of the Nazis and their murderous regime. Burned Child Seeks the Fire is compelling, horrifying, poetic in its intensity."
Deborah Peifer, Bay Area Reporter
About the Author
Cordelia Edvardson lives in Jerusalem, where she is Middle East correspondent for the Swedish paper Svenska Dagbladet. She is a prize-winning journalist and author of several books.
Advertisement