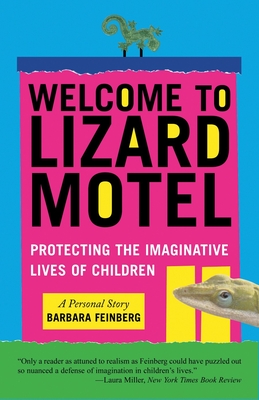 Welcome to Lizard Motel: Protecting the Imaginative Lives of Children (Paperback)
Protecting the Imaginative Lives of Children
Beacon Press (MA), 9780807071458, 209pp.
Publication Date: September 1, 2005
* Individual store prices may vary.
or
Not Currently Available for Direct Purchase
Description
"Welcome to Lizard Motel" is one of the most surprising books about reading and writing to come along in years. Not only does this rich and wonderfully readable memoir explore the world of children and stories, it also asks us to look at how our children are growing up. Barbara Feinberg suggests that we have lost touch with the organic unfolding of childhood, with that mysterious time when making things up helps deepen a child's understanding of the world. This book will reacquaint readers with the special nature of children's imaginations and why they need to be protected and fostered.
About the Author
Barbara Feinberg is the originator of Story Shop, a creative arts program for children ages three through fourteen. She has won awards for her writing, including a grant from the New York Foundation for the Arts. Feinberg lives with her husband and two children in Westchester County, New York.
Praise For Welcome to Lizard Motel: Protecting the Imaginative Lives of Children…
Fresh and wonderfully readable . . . perfect for parents eager to cultivate their kids' fantasy lives and foster a passion for literature.--Michelle Green, People

"The implications of this small book are quite large. Parents will want to read it, as will writers, publishers and educators."--Publishers Weekly, starred review

"I loved this book. Feinberg is a brave woman to challenge every shibboleth of the schools of education."--Diane Ravitch, author of The Language Police

"Welcome to Lizard Motel turns out to be more than a diatribe against the dark subject matter of YA problem novels . . . Only a reader as attuned to realism as Feinberg could have puzzled out so nuanced a defense of imagination in children's lives."--Laura Miller, New York Times Book Review

"When we place the steady diet of 'problem' novels in the context of the hours children spend being electronically bombarded by graphic, unremitting trauma, Feinberg's concerns . . . become not just comprehensible, but urgent."--Susan Linn, Boston Globe
Advertisement