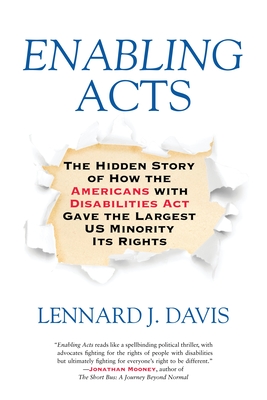 Enabling Acts
The Hidden Story of How the Americans with Disabilities Act Gave the Largest US Minority Its Rights
Hardcover

* Individual store prices may vary.
Other Editions of This Title:
Paperback (6/7/2016)
MP3 CD (5/24/2016)
Description
A behind-the-scenes account of the passing of the ADA—the moment when millions of Americans won their civil rights

The Americans with Disabilities Act (ADA) is the widest-ranging and most comprehensive piece of civil rights legislation ever passed in the United States, and it has become the model for disability-based laws around the world. Yet the surprising story behind how the bill came to be is little known.

In this riveting account, acclaimed disability scholar Lennard J. Davis delivers the first on-the-ground narrative of how a band of leftist Berkeley hippies managed to make an alliance with upper-crust, conservative Republicans to bring about a truly bipartisan bill. Based on extensive interviews with all the major players involved including legislators and activists, Davis recreates the dramatic tension of a story that is anything but a dry account of bills and speeches. Rather, it's filled with one indefatigable character after another, culminating in explosive moments when the hidden army of the disability community stages scenes like the iconic "Capitol Crawl" or an event when students stormed Gallaudet University demanding a "Deaf President Now!"

From inside the offices of newly formed disability groups to secret breakfast meetings surreptitiously held outside the White House grounds, here we meet countless unsung characters, including political heavyweights and disability advocates on the front lines. "You want to fight?" an angered Ted Kennedy would shout in an upstairs room at the Capitol while negotiating the final details of the ADA. Congressman Tony Coelho, whose parents once thought him to be possessed by the devil because of his epilepsy, later became the bill's primary sponsor. There's Justin Dart, adorned in disability power buttons and his signature cowboy hat, who took to the road canvassing 50 states, and people like Patrisha Wright, also known as "The General," Arlene Myerson or "the brains," "architect" Bob Funk, and visionary Mary Lou Breslin, who left the hippie highlands of the West to pursue equal rights in the marble halls of DC.
Praise For Enabling Acts: The Hidden Story of How the Americans with Disabilities Act Gave the Largest US Minority Its Rights…
"Unique and moving history…A perfect celebration of the ADA's twenty-fifth anniversary."
—Booklist, Starred Review

"Rather than a standard, legalistic history of legislation and case law, this nonlawyer author provides an engaging and even chatty account covering the personalities and political machinations that resulted in bipartisan passage of the law. A lively and well-researched legal saga suited to general readers interested in current events and disability issues."
—Library Journal

"A fitting tribute to the activists and advocates who worked for, wrote, and passed the law, and to the legions of people with disabilities who strive to be full participants in their communities and in our world. It is a book that everyone should read."
—Health Affairs

"A solid and wide ranging telling of the story of the passage of the ADA."
—Choice

"Lennard Davis's book offers a historic glimpse into the creation of the ADA—legislation that has positively affected the lives of countless Americans living with physical and mental challenges. To adequately understand and celebrate this landmark legislation, Enabling Acts is a must-read."
—Senator Bob Dole

"Enabling Acts is the essential account of the determined activists, seasoned politicians, and unheralded citizens whose efforts a quarter century ago launched a transformation in American law and culture that still resonates today. Studded with one indelible character and colorful incident after another, this engrossing and well-researched chronicle makes a strong case for the ADA being an enviable, if imperfect, model of legislation—and a profound event in history's long upward climb towards justice."
—Rachel Simon, author of The Story of Beautiful Girl and Riding the Bus with My Sister

"With Enabling Acts, Lennard J. Davis has given us a valuable history of a landmark piece of legislation, told with precision and insight that takes us from the activist ferment of San Francisco to the corridors of power in Washington. It is a welcome addition to the growing canon of civil rights history, and a gripping read to boot."
—Clay Risen, author of The Bill of the Century: The Epic Battle for the Civil Rights Act

"An eye-opening account, Enabling Acts not only tells the insider story of a crucial event in twentieth century history, it does so in a way that inspires a renewed conversation around disability rights in America. Even though I was the lead sponsor of the bill that became law, I learned even more about this dramatic civil rights fight."
—Senator Tom Harkin (Ret.)

"Lennard Davis has vividly captured a complex and fascinating story. It is impossible to describe briefly how much the ADA changed my life. Davis' page-turning account puts the reader on the ground along chanting disability rights advocates and behind closed doors within the walls of Washington. An important and outstanding contribution."
—I. King Jordan, first deaf president of Gallaudet University
 
"Davis has written a vital book for anyone who cares about human rights, social change, and the empowerment of people with cognitive and physical differences. Enabling Acts reads like a spellbinding political thriller with advocates fighting for the rights of people with disabilities but ultimately fighting for everyone's right to be different."
—Jonathan Mooney, author of The Short Bus: A Journey Beyond Normal
 
"Brimming with memorable characters, Lennard Davis has restored this often ignored or forgotten civil rights fight as a significant moment in U.S. history. No celebration of the ADA and democracy should be without Enabling Acts."
—Kim E. Nielsen, author of A Disability History of the United States

"With vivid details, Davis paints the personal and political histories of key players in the fight for the ADA . . . .an important contribution to the fields of disability studies and disability history."
—Audra Jennings, H-Disability
Beacon Press, 9780807071564, 296pp.
Publication Date: July 14, 2015
About the Author
An award-winning author of eleven books, including My Sense of Silence, Lennard J. Davis is Distinguished Professor of Liberal Arts in the departments of Disability Studies and English at the University of Illinois at Chicago. He has written for the New York Times, Chicago Tribune, Nation, and Chronicle of Higher Education, among other publications. He lives in New York City.
or
Not Currently Available for Direct Purchase