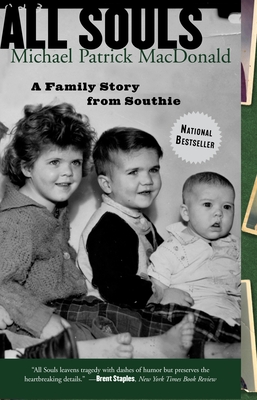 All Souls
A Family Story from Southie
Paperback

* Individual store prices may vary.
Other Editions of This Title:
MP3 CD (5/10/2021)
Compact Disc (5/10/2021)
MP3 CD (5/17/2016)
Hardcover (9/25/1999)
Description
A breakaway bestseller since its first printing, All Souls takes us deep into Michael Patrick MacDonald's Southie, the proudly insular neighborhood with the highest concentration of white poverty in America. The anti-busing riots of 1974 forever changed Southie, Boston's working class Irish community, branding it as a violent, racist enclave. Michael Patrick MacDonald grew up in Southie's Old Colony housing project. He describes the way this world within a world felt to the troubled yet keenly gifted observer he was even as a child: "[as if] we were protected, as if the whole neighborhood was watching our backs for threats, watching for all the enemies we could never really define."

But the threats-poverty, drugs, a shadowy gangster world-were real. MacDonald lost four of his siblings to violence and poverty. All Souls is heart-breaking testimony to lives lost too early, and the story of how a place so filled with pain could still be "the best place in the world."

We meet Ma, Michael's mini-skirted, accordian-playing, usually single mother who cares for her children there are eventually eleven through a combination of high spirits and inspired "getting over." And there are Michael's older siblings Davey, sweet artist-dreamer; Kevin, child genius of scam; and Frankie, Golden Gloves boxer and neighborhood hero whose lives are high-wire acts played out in a world of poverty and pride.

But too soon Southie becomes a place controlled by resident gangster Whitey Bulger, later revealed to be an FBI informant even as he ran the drug culture that Southie supposedly never had. It was a world primed for the escalation of class violence-and then, with deadly and sickening inevitability, of racial violence that swirled around forced busing. MacDonald, eight years old when the riots hit, gives an explosive account of the asphalt warfare. He tells of feeling "part of it all, part of something bigger than I'd ever imagined, part of something that was on the national news every night."

Within a few years-a sequence laid out in All Souls with mesmerizing urgency-the neighborhood's collapse is echoed by the MacDonald family's tragedies. All but destroyed by grief and by the Southie code that

doesn't allow him to feel it, MacDonald gets out. His work as a peace activist, first in the all-Black neighborhoods of nearby Roxbury, then back to the Southie he can't help but love, is the powerfully redemptive close to a story that will leave readers utterly shaken and changed.
Praise For All Souls: A Family Story from Southie…
[A] rare and compelling book . . . Highly passionate.—Liam Ford, Chicago Tribune

"His anecdotes have the searing power of a redeemed sinner's fiery sermon. His swift, conversational style sweeps you into his anger and sorrow. He is a born rabble-rouser whose emotional power numbs the reader's reason."—Charles Carberry, USA Today

"All Souls is a memoir filled with desperation and despair, but there is also hope in it . . . MacDonald's discovery of his vocation in neighborhood activism is a refreshing change from most memoirs, which so often . . . are largely concerned with describing an ascent to celebrityhood." —Julian Moynahan, New York Review of Books

"Michael Patrick MacDonald takes us on a heartbreaking tour of his South Boston family." —Frank McCourt, Irish America Magazine

"An incendiary, moving book that startles on nearly every page . . . MacDonald's nimble prose and detailed recall of grim times long past make for luminous reading; his hard-won conception of how ghettoized poverty spawns localized violence, and the dignity he brings to lives snuffed out in chaos, gives All Souls a moral urgency usually lacking in current memoir or crime prose. A remarkable work." —Kirkus Reviews, starred review

"All Souls leavens tragedy with dashes of humor but preserves the heartbreaking details."—Brent Staples, New York Times Book Review

"If you were charmed by Frank McCourt's Angela's Ashes but wished at times the author would have got out of the way of his own beguiling style, try All Souls: A Family Story from Southie, Michael Patrick MacDonald's guileless and powerful memoir of precarious life and early death in Boston's Irish ghetto."—R. Z. Sheppard, Time

"A must read . . . All Souls is poised to become one of the most significant Irish American books of the era."—Irish Edition

"MacDonald has a gift for narrative, an eye for social detail, and a voice of earned authenticity."—Jack Beatty, Author of The Rascal
Beacon Press, 9780807072134, 296pp.
Publication Date: November 1, 2007
About the Author
Michael Patrick MacDonald grew up in South Boston's Old Colony housing project. After losing four siblings and seeing his generation decimated by poverty, crime, and addiction, he became a leading Boston activist, helping launch many antiviolence initiatives, including gun-buyback programs. He continues to work for social change nationally, collaborating with survivor families and young people.
MacDonald won the American Book Award in 2000 and has written numerous essays for the Boston Globe Op-Ed Page. His national bestseller, All Souls, and his follow-up, Easter Rising: A Memoir of Roots and Rebellion have been adopted by university curriculums across the country.