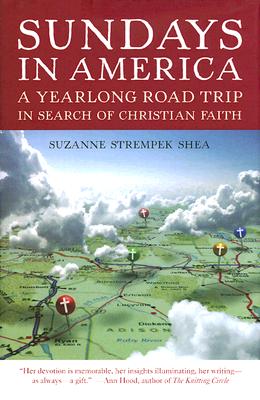 Sundays in America: A Yearlong Road Trip in Search of Christian Faith (Hardcover)
A Yearlong Road Trip in Search of Christian Faith
Beacon Press, 9780807072240, 324pp.
Publication Date: April 1, 2008
* Individual store prices may vary.
or
Not Currently Available for Direct Purchase
Description
When Pope John Paul II died, Suzanne Strempek Shea, who had not been an active member of a church community for some years, recognized in his mourners a faith-filled passion that she longed to recapture in her own life. Shea, never one to do things in a conventional manner or by halves, set out on a pilgrimage to visit a different church every Sunday for a year-a journey that would take her through the broad spectrum of contemporary protestant Christianity practiced in this country.

She began with a rousing Baptist Easter service in Harlem, traveled to Colorado's Pro Rodeo Hall of Fame for a sing-along service at the Cowboy Church, and flew to Houston for a multimedia experience at Joel Osteen's Lakewood Church, the largest church in the country. She sat with the Shakers, and-in silence-with the Quakers; she sang often, danced, and even drew on one memorable occasion. Shea approached each congregation with the curiosity of a newcomer and with respect for each unique expression of faith, whether the sanctuary was a multimillion-dollar extravaganza, a centuries-old edifice, an abandoned building, or even an airport chapel.

In her tour of more than thirty states, including Hawaii, Shea: * Knocked knees with President Jimmy Carter at his Plains, Georgia, Baptist church on Independence Day. * Joined the band at a San Francisco African Orthodox church that considers jazz legend John Coltrane a bona fide saint. * Got a wake-up call from Anne Graham Lotz, Billy Graham's preacher daughter, at a sprawling conservative church in South Carolina. * Followed the signs for a hot tub dealership that, in the wake of Hurricane Katrina, has become a new Presbyterian church in Mississippi. * Collected tips on The Purpose Driven Life from Rick Warren at his famed Saddleback Church complex. * Knocked on the door of the Jehovah's Witnesses in Portland, Oregon. * Shared a pew with Milwaukee Bucks star Michael Redd at the Columbus, Ohio, church he purchased for his dad. * Had her feet washed by a Seventh-Day Adventist at a church in Connecticut. * Attended a three-hour service featuring speaking in tongues, faith healing, and dancing in the aisle at a Foursquare Gospel church. * Toured Joseph Smith's birthplace in Vermont and worshipped with his Mormon followers.

Sundays in America is an essential guide for those seeking a new house for their worship as well as a colorful road trip for the armchair explorer, providing a vivid perspective on the practice and meaning of Christian faith as it is practiced throughout our land.
Praise For Sundays in America: A Yearlong Road Trip in Search of Christian Faith…
Do you believe in miracles? You will after you read Sundays in America. This book will lift you up. If you've stopped going to church on Sundays, it will lasso your lost faith. If you've never left, it will remind you of why you gather, why you pray, why you're part of the flock. Suzanne Strempek Shea writes with soul, straight from her heart; this book was just what I needed to read.—Luanne Rice, author of What Matters Most

"Sundays in America is unlike any other book you'll ever read. While born and raised Roman Catholic, Suzanne Shea invites us to accompany her on a yearlong pilgrimage of weekly services in non-Catholic Christian churches . . . Like all pilgrimages, this one will enlighten you and change your life too; and, I might add, you will not find a pilgrim guide more fun to be with than Suzanne Shea."—Karol Jackowski, author of Forever and Ever, Amen

"Shea's book does for us what most of us cannot do for ourselves: it puts us in the pews of dozens of churches all across America… This book is for anyone looking to understand, evaluate, or re-ignite their Christian faith through the prism of curiosity and the spirit of exploration."—Kristin Hahn, author of In Search of Grace

"I can think of no better companion on a spiritual journey than Suzanne Strempek Shea. In Sundays in America, with her trademark humor and grace, she takes the reader's hand and shows us churches across the United States, pointing out the subtleties and details that we would otherwise have missed. Her devotion is memorable, her insights illuminating, her writing—as always—a gift." —Ann Hood, author of The Knitting Circle

"Imagine visiting a different Christian church each Sunday morning for a year-anywhere in the United States! Suzanne Strempek Shea made just such a pilgrimage, and she shares her travels in Sundays in America: A Yearlong Road Trip in Search of Christian Faith (Beacon). Her book is remarkable! Readers accompany Shea on each leg of her journey: from a rousing Baptist service in Harlem to a chapel at Denver International Airport. Stops in between include a silent Quaker service in Philadelphia, and a visit to Joel Osteen's megachurch in Houston. Suzanne Shea is the perfect guide. Her impressions of each church are both honest and respectful. She offers brief bits of church history, and occasional background to particular denominations. She generously shares her own struggles too. Shea is always insightful, and often quite humorous. I enjoyed the book immensely. I thank her for sharing her journeys-literal and spiritual, and for showing so clearly that there are unlimited paths to a single destination."—Chris Rose, Andover Bookstore, Book Sense nomination

"[A] captivating trip into the heart of non-Catholic Christian America that reveals the amazing diversity of one complex faith."—June Sawyers, Booklist, starred review

"Shea makes good use of her narrative skills to describe each service that she attended. She paints detailed pictures of the buildings and the worshippers, and supplies just enough background on each denomination to orient the reader. Sundays in America provides stimulating reading for those of any faith who may be considering a change of affiliation or who are simply curious about how other denominations do things."—Denise J. Stankovics, The American Catholic

"The interesting subject matter of your book, along with your compelling writing style, make Sundays in America a natural selection for one of our church book clubs or the adult Christian education class."—Pastor Michael G. Sykes, Faith United Protestant Church, Park Forest, IL

"In five very evocative pages, Ms. Shea captures the spirit of MCC Richmond, and MCC churches across the globe, especially when she describes 'the most touching Communion service I've ever witnessed.' She describes 49 other churches, e.g., the might, Riverside Church in New York City; the well-known, Maranatha Baptist Church in Plains, GA; the controversial, Trinity United Church of Christ in Chicago; and the small and unknown. She covers the ecclesiastical waterfront: Episcopal, Pentecostal, Holiness, Methodist, Nazarene, Seventh Day Adventist, Greek Orthodox, and more. We are in good company."—Pastor Robin H. Gorsline, Metropolitan Community Church of Richmond, VA
Advertisement