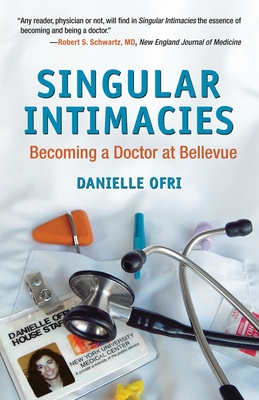 Singular Intimacies
Becoming a Doctor at Bellevue
Paperback

* Individual store prices may vary.
Other Editions of This Title:
MP3 CD (5/15/2018)
Compact Disc (5/15/2018)
Description
A "finely gifted writer" shares "fifteen brilliantly written episodes covering the years from studenthood to the end of medical residency" (Oliver Sacks, MD, author of The Man Who Mistook His Wife for a Hat)

Singular Intimacies is the story of becoming a doctor by immersion at Bellevue Hospital, the oldest public hospital in the country—and perhaps the most legendary. It is both the classic inner-city hospital and a unique amalgam of history, insanity, beauty, and intellect. When Danielle Ofri enters these 250-year-old doors as a tentative medical student, she is immediately plunged into the teeming world of urban medicine: mysterious illnesses, life-and-death decisions, patients speaking any one of a dozen languages, and overworked interns devising creative strategies to cope with the feverish intensity of a big-city hospital.

Yet the emphasis of Singular Intimacies is not so much on the arduous hours in medical training (which certainly exist here), but on the evolution of an instinct for healing. In a hospital without the luxury of private physicians, where patients lack resources both financial and societal, where poverty and social strife are as much a part of the pathology as any microbe, it is the medical students and interns who are thrust into the searing intimacy that is the doctor-patient relationship. In each memorable chapter, Ofri's progress toward becoming an experienced healer introduces not just a patient in medical crisis, but a human being with an intricate and compelling history. Ofri learns to navigate the tangled vulnerabilities of doctor and patient—not to simply battle the disease.
Praise For Singular Intimacies: Becoming a Doctor at Bellevue…
What is it like to become a doctor? Danielle Ofri answers with candor and humility and pride. This book should be required reading by anyone contemplating a life in medicine.—Richard Selzer, surgeon and author of Letters to a Young Doctor

"Any reader, physician or not, will find in Singular Intimacies the essence of becoming and being a doctor."—Robert S. Schwartz, M.D., New England Journal of Medicine

"Her vivid and moving prose enriches the mind and turn the heart. We are privileged to journey with her from her days as a student to her emergence as a physician working among those most in need."—Jerome Groopman, author of How Doctors Think

"This is a wonderful book, a true classic medical memoir. Ofri deftly assembles tales to paint an indelible portrait of a great American hospital. I highly recommend it for physicians, would-be doctors, and anyone interested in medicine in all its behind-the-scenes glory."—Sandeep Jauhar, author of Intern: A Doctor's Initiation

"Danielle Ofri is a finely gifted writer, a born storyteller as well as a born physician, and through these fifteen brilliantly written episodes covering the years from studenthood to the end of her medical residency, we get not only a deep sense of the high drama of life and death, which must face anyone working in a great hospital, but also a feeling for the making of a physician's mind and soul."—Oliver Sacks, MD, author of The Man Who Mistook His Wife for a Hat

"Danielle Ofri has so much to say about the remarkable intimacies between doctor and patient, about the bonds and the barriers, and above all about how doctors come to understand their powers and their limitations."—Perri Klass, MD, author of A Not Entirely Benign Procedure
Beacon Press, 9780807072516, 256pp.
Publication Date: April 1, 2009
About the Author
Danielle Ofri, MD, PhD, is an associate professor of medicine at the New York University School of Medicine and has cared for patients at New York's Bellevue Hospital for more than two decades. Writing in the Guardian, Andrew Solomon singled out Ofri as the only woman among an extraordinary new generation of doctor writers, saying, "Ofri has produced four impressive books and numerous articles, all striking for their reversion to empathy, their willingness to sense not only the physical life of a patient, but also the emotional." Ofri's books and articles have become academic staples in medical schools, universities and residency programs. She is the editor in chief of the Bellevue Literary Review and writes regularly for the New York Times. Ofri in New York City.
or
Not Currently Available for Direct Purchase