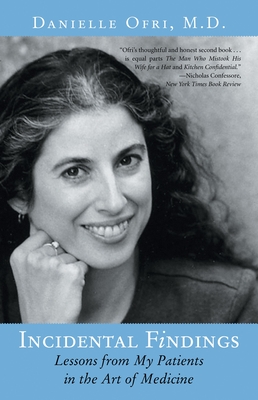 Incidental Findings
Lessons from My Patients in the Art of Medicine
Paperback

* Individual store prices may vary.
Description
In Singular Intimacies, which the New England Journal of Medicine said captured the'essence of becoming and being a doctor,' Danielle Ofri led us into the hectic, constantly challenging world of big-city medicine. In Incidental Findings, she's finished her training and is learning through practice to become a more rounded healer. The book opens with a dramatic tale of the tables being turned on Dr. Ofri: She's had to shed the precious white coat and credentials she worked so hard to earn and enter her own hospital as a patient. She experiences the real'slight prick and pressure' of a long needle as well as the very real sense of invasion and panic that routinely visits her patients.

These fifteen intertwined tales include 'Living Will,' where Dr. Ofri treats a man who has lost the will to live, and she too comes dangerously close to concluding that he has nothing to live for;'Common Ground,' in which a patient's difficult decision to have an abortion highlights the vulnerabilities of doctor and patient alike;'Acne,' where she is confronted by a patient whose physical and emotional abuse she can't possibly heal, so she must settle on treating the one thing she can, the least of her patient's problems; and finally a stunning concluding chapter,'Tools of the Trade,' where Dr. Ofri's touch is the last in a woman's long life.
Praise For Incidental Findings: Lessons from My Patients in the Art of Medicine…
Ofri's thoughtful and honest second book-the title is inspired by her realization, during her own amniocentesis, that conditions that seem minor to doctors are monumental when they happen to you-is equal parts The Man Who Mistook His Wife for a Hat and Kitchen Confidential.—Nicholas Confessore, New York Times Book Review

"Dr. Ofri, a physician, distills wisdom from the maelstrom of New York City's Bellevue Hospital in this emotional memoir. In a series of poignant vignettes, the internist grapples with the hearts of the sick, literally and metaphorically. Her patients range from the terminally ill to manipulative hypochondriacs, from veiled Bangladeshi women to convicted felons. A must-read for students of psychology and medicine in need of a lesson in compassion."—Psychology Today

"Danielle Ofri is a finely gifted writer, a born storyteller as well as a born physician."—Oliver Sacks

"Ofri has so much to say about the remarkable intimacies between doctor and patient and how doctors come to understand their powers and limitations."—Perri Klass

"[Ofri's] writing tumbles forth with color and emotion . . . An important addition to the literary canon of medicine."—Boston Globe

"Ofri supported a postgraduate semisabbatical by taking temporary assignments, filling in where needed at a variety of hospitals and clinics as she traveled the country. The experience, originally planned as a quasi vacation to recover from the rigors of medical residency, resulted in much more than she bargained for. Indeed, Ofri learned more-the incidental findings of the title-about the softer emotional underbelly of medicine than she had picked up clinically . . . Good writing + good doctor = good reading."—Booklist

"Incidental Findings is a beautiful book. Ofri has enough faith in her patients, her profession, and herself to tell it all."—Robert S. Schwartz, M.D., New England Journal of Medicine

"The writing is engaging, and I highly recommend Incidental Findings to anyone who wants to read a short, well-written, and thought-provoking book."—Jason Chao, Journal of the American Medical Association

"A pleasure to read, thanks to the author's ability to see her patients as individuals and to form a genuine connection with them."—Kirkus Reviews
Beacon Press, 9780807072677, 192pp.
Publication Date: April 1, 2006
About the Author
Dr. Danielle Ofri, author of Singular Intimacies, is an attending physician at Bellevue and the cofounder and editor-in-chief of the Bellevue Literary Review. She is currently a regular contributor to the Los Angeles Times and the New England Journal of Medicine.