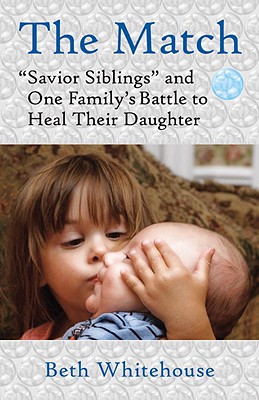 The Match
Savior Siblings and One Family's Battle to Heal Their Daughter
Hardcover

* Individual store prices may vary.
Other Editions of This Title:
Paperback (3/8/2011)
Description
On her first day on earth, laboring to breathe under an oxygen tent, Katie Trebing underwent a blood transfusion that would become the first of an expected lifetime of them. Diagnosed with a rare form of anemia that prevents bone marrow from producing red blood cells, Katie would require a transfusion every month. Without it, she would die. But even with a steady supply of red blood cells from donors, her prognosis was not encouraging. Eventually, doctors warned, iron from repeated transfusions would accumulate in her heart and liver, potentially destroying her organs by the time she reached forty.

Faced with their daughter's devastating prognosis, Stacy and Steve Trebing made the difficult decision to pursue the only known cure for Diamond Blackfan anemia: a bone marrow transplant from a genetic match. Using preimplantation genetic diagnosis (PGD) and in vitro fertilization, they would create a "savior sibling" for Katie, a complex process rife with setbacks and pitfalls. Only then could she undergo the perilous procedure that might save her life.

In The Match, Pulitzer Prize-winning journalist Beth Whitehouse tells the Trebing family's story, from the onset ofKatie's troubling health complications to the birth of her new brother and the culmination of her bone-marrow transplant. Whitehouse follows the Trebings each step of the way as they make the nail-biting decisions to create a genetically matched sibling and proceed with the risky transplant that could kill Katie rather than save her. With the family's dramatic and emotional story as an entry point, Whitehouse delves head-on into the murky bioethics surrounding PGD: Is it ethical to create a life for the purpose of saving another? Who will protect the medical interests of the "savior sibling" created by scientific manipulation? And who will object if the child is later called upon to donate, say, an organ?

Whitehouse asks these questions and many others, seeking answers from doctors and ethicists who deal with such matters daily. She explores the controversial use already made of PGD to select gender and the future possibility to choose traits such as eye color and even intelligence. The Match is a timely and provocative look at urgent issues that can only become more complex and pressing as genetic and reproductive technologies advance.
Praise For The Match: Savior Siblings and One Family's Battle to Heal Their Daughter…
The Match is a thought-provoking, extremely well-researched, and deeply personal account of one of the most controversial ethical dilemmas of our time. By allowing readers to walk beside the Trebing family as their daughter's illness leads them to conceive a sibling who might save her life, Beth Whitehouse takes us on a journey so rich in hope, commitment, and love that it forces us to suspend any judgments we might have held. Instead, we root for this family, as they—aided by their tireless relatives, dedicated friends, and team of exemplary medical professionals—step right to the edge of contemporary science. The result is a great story, and a remarkable work of journalism.—Rachel Simon, author of Building A Home With My Husband and Riding The Bus With My Sister

"In the quest to cure their daughter, Steve and Stacy Trebing made an enormous and potentially dangerous medical decision—which inevitably led to another decision, and another, and another, as medical decisions tend to do in this day and time. Beth Whitehouse was there with them, witnessing their struggle and capturing it with accuracy and empathy. The Match is a riveting, vividly written tale of what happens when two powerful forces-parental love and modern science—converge to try to help a very brave child through the deliberate conception of another."—Liza Mundy, author of Everything Conceivable: How Assisted Reproduction is Changing Our World and Michelle: A Biography
Beacon Press, 9780807072868, 272pp.
Publication Date: April 1, 2010
or
Not Currently Available for Direct Purchase