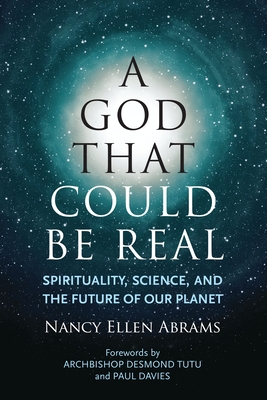 A God That Could Be Real
Spirituality, Science, and the Future of Our Planet
Hardcover

* Individual store prices may vary.
Other Editions of This Title:
Digital Audiobook (7/30/2018)
Paperback (3/8/2016)
MP3 CD (9/25/2018)
Compact Disc (9/25/2018)
Description
A paradigm-shifting blend of science, religion, and philosophy for the agnostic, spiritual-but-not-religious, and scientifically minded reader
 
Many people are fed up with the way traditional religion alienates them. Too often it perpetuates conflict, vilifies science, and undermines reason. Nancy Abrams—a philosopher of science, lawyer, and lifelong atheist—is among these people, but she has also found freedom in imagining a higher power.
 
In A God That Could Be Real, Abrams explores a radically new way of thinking about God. She dismantles several common assumptions about God and shows why an omniscient, omnipotent God that created the universe and plans what happens is incompatible with science—but that this doesn't preclude a God that can comfort and empower us.
 
Moving away from traditional arguments for God, Abrams finds something worthy of the name "God" in the new science of emergence: just as a complex ant hill emerges from the collective behavior of individually clueless ants, and just as the global economy emerges from the interactions of billions of individuals' choices, God, she argues, is an "emergent phenomenon" that arises from the staggering complexity of humanity's collective aspirations and is in dialogue with every individual. This God did not create the universe—it created the meaning of the universe. It's not universal—it's planetary. It can't change the world, but it helps us change the world. A God that could be real, Abrams shows us, is what humanity needs to inspire us to collectively cooperate to protect our warming planet and create a long-term civilization.
Praise For A God That Could Be Real: Spirituality, Science, and the Future of Our Planet…
"A fine addition to the growing library of alternative approaches to literalism in belief, this book is suitable for academic libraries, liberal churches, and individual seekers."
—Library Journal

"A truly extraordinary read from beginning to end...Informed, informative, thoughtful, thought provoking, inspired and inspiring. Very highly recommended."
—Margaret Lane, Midwest Book Review

"Like everything else in life, Gods die. And when they do, new Gods come to take their place. Ours is a time of new Gods birthing, and Nancy Abrams's magnificent book A God That Could Be Real is a powerful act of midwifery. This is not a eulogy for the old Gods but a prophecy of the new."
—Rabbi Rami Shapiro, author of Perennial Wisdom for the Spiritually Independent
 
"You will find that your beliefs are enriched by reading Abrams's book. I am thrilled that we have the creativity and originality that is exhibited in this book, and I recommend it highly to all, religious or secular, believer or atheist, who are ready to explore honestly their understanding of the divine in our beautiful, expanding universe."
—Archbishop Desmond Tutu, from the Foreword
 
"Over the past two decades a largely sterile dispute has raged between two diametrically opposing camps: atheists and religious fundamentalists. It is surely time to move on and elevate the discussion to a higher intellectual level. This ambitious and thought-provoking book by Nancy Abrams on the interface of science and religion is a timely and welcome contribution to a more productive discussion of the topic."
—Paul Davies, from the Foreword

"A God That Could Be Real is full of sparkling prose, memorable quotes, and strikingly original insights that have never been brought to the page before, despite the long-running culture wars between organized religion and modern science over God and cosmic knowledge. My family and I spent a long dinner and all of breakfast the next day debating the meaning of this book. Give this book to the other questing minds in your family and brace yourself for heated discussions."
—Sandra Moore Faber, National Medal of Science recipient and University Professor of Astronomy and Astrophysics at the University of California, Santa Cruz
 
"Nancy Abrams dares to pose many of the important and challenging questions that arise at the intersection of contemporary cosmology, spirituality, and atheism.  I respect Abrams's moral passion and honest search for a God that could be real, a search beckoning us all."
—Matthew Fox, founder of Creation Spirituality and author of Meister Eckhart: A Mystic-Warrior for Our Times

"[Abrams] points to a way beyond the boring religion-science debates, which pit secular fundamentalists against religious fundamentalists."
—Rev. Dr. Carl Gregg, Patheos
Beacon Press, 9780807073391, 200pp.
Publication Date: March 10, 2015
About the Author
Nancy Ellen Abrams is coauthor with Joel R. Primack, of The View from the Center of the Universe and The New Universe and the Human Future.
or
Not Currently Available for Direct Purchase