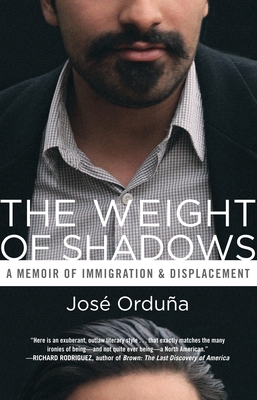 The Weight of Shadows (Paperback)
A Memoir of Immigration & Displacement
Beacon Press, 9780807074015, 240pp.
Publication Date: April 12, 2016
* Individual store prices may vary.
Description
Tracing his story of becoming a US citizen, José Orduña's memoir explores the complex issues of immigration and assimilation.

José Orduña chronicles the process of becoming a North American citizen in a post-9/11 United States. Intractable realities—rooted in the continuity of US imperialism to globalism—form the landscape of Orduña's daily experience, where the geopolitical meets the quotidian. In one anecdote, he recalls how the only apartment his parents could rent was one that didn't require signing a lease or running a credit check, where the floors were so crooked he once dropped an orange and watched it roll in six directions before settling in a corner. Orduña describes the absurd feeling of being handed a piece of paper—his naturalization certificate—that guarantees something he has always known: he has every right to be here. A trenchant exploration of race, class, and identity, The Weight of Shadows is a searing meditation on the nature of political, linguistic, and cultural borders, and the meaning of "America."
About the Author
José Orduña was born in Córdoba, Veracruz, and immigrated to Chicago when he was two. He is a graduate of the Nonfiction Writing Program at the University of Iowa and active in Latin American solidarity.
Praise For The Weight of Shadows: A Memoir of Immigration & Displacement…
"Articulate and timely, Orduña's book probes the underside of the American dream while offering a fierce vision of the way race and class continue to shape government policy in a country that still bills itself as the land of opportunity for all. Sharp-eyed and unsparing."
—Kirkus Reviews

"The highly descriptive narrative brings his lived experience as close to readers as words printed on a page can. This memoir is recommended for readers who understand migration—especially to the U.S.—or are hoping to know more about it and are looking for narratives that exemplify the experience."
—Booklist

"Orduña's illuminating story offers a personal look at the experiences of undocumented immigrants in the United States. Memoir readers and those interested in immigration history will find it rewarding."
—Library Journal

"Orduña's book violates—in a most exciting way—a number of literary borders: the political essay is enclosed within a novel; tough political observation is enlivened suddenly by a rush of metaphor or lush detail from the poet's eye; finally, humor and pathos meet on the page 'without papers.' Here is an exuberant, outlaw literary style...that exactly matches the many ironies of being—and not quite ever being—a North American."
—Richard Rodriguez, author of Brown: The Last Discovery of America

"Orduña's wonderfully wry, insightful, and beautiful debut is as deft as they come in nonfiction."
—John D'Agata, author of Halls of Fame: Essays

"The Weight of Shadows is an outstanding debut that instantly places Orduña among the ranks of literature's best new talent."
—Jerald Walker, author of Street Shadows: A Memoir of Race, Rebellion, and Redemption

"Orduña skillfully weaves personal memoir with deeply researched facts to reveal the disquieting truths no citizen of conscience can afford to ignore."
—Shulem Deen, author of All Who Go Do Not Return

"A provocative and insightful work that is destined to introduce a new form to the world of creative nonfiction...This memoir will no doubt be required reading for years to come."
—Willie Perdomo, author of The Essential Hits of Shorty Bon Bon