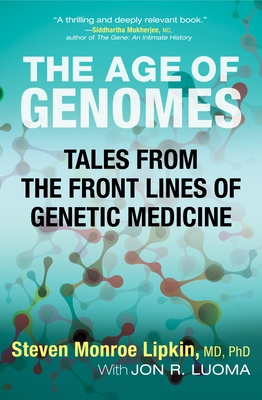 The Age of Genomes (Hardcover)
Tales from the Front Lines of Genetic Medicine
Beacon Press, 9780807074572, 256pp.
Publication Date: May 17, 2016
Other Editions of This Title:
Paperback (5/16/2017)
* Individual store prices may vary.
Description
A leading geneticist explores what promises to be one of the most transformative advances in health and medicine in history

Almost every week, another exciting headline appears about new advances in the field of genetics. Genetic testing is experiencing the kind of exponential growth once seen with the birth of the Internet, while the plummeting cost of DNA sequencing makes it increasingly accessible for individuals and families.

Steven Lipkin and Jon Luoma posit that today's genomics is like the last century's nuclear physics: a powerful tool for good if used correctly, but potentially dangerous nonetheless. DNA testing is likely the most exciting advance in a long time for treating serious disease, but sequencing errors, complex biology, and problems properly interpreting genetic data can also cause life-threatening misdiagnoses of patients with debilitating and fatal genetic diseases. DNA testing can also lead to unnecessary procedures and significantly higher health-care costs. And just around the corner is the ability to cure genetic diseases using powerful gene-editing technologies that are already being used in human embryo research. Welcome to the Age of Genomes!

The Age of Genomes immerses readers in true stories of patients on the frontier of genomic medicine and explores both the transformative potential and risks of genetic technology. It will inform anxious parents increasingly bombarded by offers of costly new prenatal testing products, and demonstrate how genetic technology, when deployed properly, can significantly improve the lives of patients who have devastating neurological diseases, cancer, and other maladies. Dr. Lipkin explains the science in depth, but in terms a layperson can follow.
About the Author
Steven Monroe Lipkin, MD, PhD, FACMG, has been a practicing clinical geneticist for almost twenty years. He directs the Adult and Cancer Genetics Clinic and is the vice chair for Translational Research at the Sanford I. and Joan Weill Department of Medicine at Weill Cornell in New York City.

Jon R. Luoma's writing about science and the environment has appeared in National Geographic, GQ, the New York Times Sunday Magazine, and Audubon, where he was a longtime contributing editor. He is the author of three previous nonfiction books: The Hidden Forest, A Crowded Ark, and Troubled Skies, Troubled Waters.
Praise For The Age of Genomes: Tales from the Front Lines of Genetic Medicine…
"The author's caveats about present and future uses of gene sequencing reflect a physician keenly aware of the ethical and moral issues."
—Kirkus Reviews

"Delivers some vitally important messages about the interactions between the average human and the average genome."
—Abigail Zuger, New York Times

"Lipkin's The Age of Genomes is a thrilling and deeply relevant book. Spanning a multitude of topics—breast cancer, the genetics of Tay-Sachs disease, and an individual's assessment of his or her own genetic risk—Lipkin writes with a deft and humane touch, reminding us how profoundly the new science of genomics will impact all of us in the future."
—Siddhartha Mukherjee, MD, author of The Emperor of All Maladies and The Gene: An Intimate History

"If you're thinking about having your genome sequenced, or just learning about genomics, The Age of Genomes is an extraordinary resource. Steven Lipkin, one of the country's leading medical geneticists, teaches us through his patients and insightful stories."
—Eric Topol, MD, author of The Patient Will See You Now

"Building on his own experiences as a highly regarded physician, Dr. Lipkin has expertly woven a series of engaging stories to portray the enormous potential, as well as the possible pitfalls, of the new genomic era."
—Lee Goldman, MD, author of Too Much of a Good Thing: How Four Key Survival Traits Are Now Killing Us
or
Not Currently Available for Direct Purchase