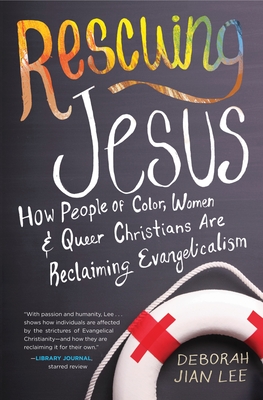 Rescuing Jesus
How People of Color, Women, and Queer Christians are Reclaiming Evangelicalism
Paperback

* Individual store prices may vary.
Other Editions of This Title:
Hardcover (11/10/2015)
Description
An inside look at the young, diverse, and progressive Christians who are transforming the evangelical movement

Deborah Jian Lee left the evangelical world because she was frustrated by its conservative politics. But over the years, she noticed how evangelical culture and politics were changing—and moving in a more progressive direction. What Lee came to find is that most of what we think we know about evangelicals is wrong, or is well on its way to becoming dated.
 
In Rescuing Jesus, she ventures into the world of progressive evangelicalism, telling the stories of those at the forefront of a movement that could change the face and the substance of religion in the United States. These men and women are a young and diverse array of people—LGBTQ and straight; white, black, Asian, Hispanic, and indigenous—who are working to wrest political power away from conservatives. These young evangelicals are more likely than their elders to accept same-sex marriage, more inclined to think of "pro-life" issues as being about supporting society's disenfranchised, and more accepting of equality between men and women.

With empathy, journalistic rigor, and powerful storytelling, Lee unpacks the diverse and complex strands of this movement—and what it means for the rest of us. Given the clout that evangelicals still hold in national politics, Lee argues, this movement is important not only for the future of evangelicalism but also for the future of our country.
Praise For Rescuing Jesus: How People of Color, Women, and Queer Christians are Reclaiming Evangelicalism…
"This examination of humanity and culture shows how individuals are affected by the strictures of Evangelical Christianity—and how they are reclaiming it for their own...The journalistic writing will appeal to readers of nonfiction; the personal nature of the content will offer solidarity to those who are struggling with their faith, and the examination of religion and politics will challenge readers searching for a different perspective. This volume offers insight into an often overlooked sect of American Christianity; here, Jian Lee has given women, racial minorities, and the LGBTQ community a voice. This is a succinct, intelligent, personable accounting of an often misunderstood demographic."
—Library Journal, Starred Review

"Rescuing Jesus highlights and spurs on change that is vital not only to the evangelical church but also to the country."
—Foreword Reviews

"Rescuing Jesus holds plenty of revelations about the future of American Christianity...Lee challenges prevailing understanding about American evangelicalism, and she demonstrates that identity politics, which once served to divide liberal evangelicals, are now working in tandem with their evangelical identities."
—Tanner Howard, Chicago Reader

"In Rescuing Jesus, Deborah Jian Lee smashes the stereotype that 'evangelical' automatically means 'socially conservative.' With passionate reporting and skillful storytelling, Lee takes us into the world of Christians who share the same values of tolerance and social justice as secular progressives. Lee puts a human face on the large number of evangelicals invisible in a media culture that focuses on the most extreme right-wing adherents. Every liberal should read this book."
—Dale Maharidge, Pulitzer Prize-winning author of And Their Children After Them

"One of the most important books I've read in years, Rescuing Jesus is a thoughtful, well-researched, and compelling page-turner that gives me hope for the future of Christianity. Lee's reporting skills really shine as she features the stories of women, people of color, and queer Christians stepping out of the margins to lead the church in new and exciting directions. I'll be recommending this book to anyone who asks me about the future of Christianity in America, and I'll be returning to it often myself for research, encouragement, and inspiration."
—Rachel Held Evans, author of Searching for Sunday: Loving, Leaving, and Finding the Church

"Deborah Jian Lee's Rescuing Jesus offers a substantial, well-written, and compelling investigative report on the stresses and strains of U.S. evangelicalism on issues of race, gender, and sexuality. The author, herself a young refugee from evangelicalism, tells a bracing story that mixes bloodcurdling accounts of (oblivious white patriarchal straight male) evangelicalism with stories of the emerging young leaders who are challenging it. This is an important contribution, carefully reported, thoughtful in its analysis, and highly recommended."
—David Gushee, Distinguished University Professor of Christian Ethics and Director of the Center for Theology and Public Life, Mercer University, and author of Changing Our Mind

"Lee's reporting indicts modern American evangelicalism's failure to be good news for those who aren't conservative, straight, white men. Weaving in her own story, she movingly chronicles her subjects' search for a spiritual home, and what emerges is a profoundly hopeful, deeply Christian narrative about redemption and resurrection."
—Jeff Chu, author of Does Jesus Really Love Me?

"The evangelical church in America is changing from within and Deborah Jian Lee enthusiastically charts its new and unexpected course. Rescuing Jesus is an important and refreshing look at religion in America from a smart and passionate observer."
—Ari L. Goldman, author of The Search for God at Harvard
Beacon Press, 9780807075074, 296pp.
Publication Date: October 25, 2016
About the Author
Deborah Jian Lee is an award-winning journalist and radio producer. She has worked as a staff reporter for the Associated Press, taught journalism at Columbia University, and written for Foreign Policy, Forbes, Slate, GOOD, Reuters, WBEZ, WNYC, and others.