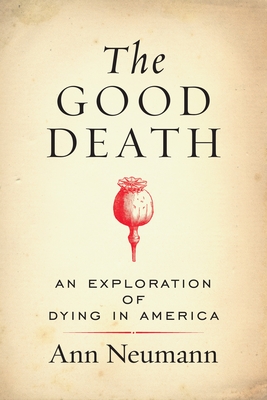 The Good Death
An Exploration of Dying in America
Paperback

* Individual store prices may vary.
Other Editions of This Title:
Hardcover (2/16/2016)
MP3 CD (9/20/2016)
Description
Following the death of her father, journalist and hospice volunteer Ann Neumann sets out to examine what it means to die well in the United States.

When Ann Neumann's father was diagnosed with non-Hodgkin's lymphoma, she left her job and moved back to her hometown of Lancaster, Pennsylvania. She became his full-time caregiver—cooking, cleaning, and administering medications. When her father died, she was undone by the experience, by grief and the visceral quality of dying. Neumann struggled to put her life back in order and found herself haunted by a question: Was her father's death a good death?

The way we talk about dying and the way we actually die are two very different things, she discovered, and many of us are shielded from what death actually looks like. To gain a better understanding, Neumann became a hospice volunteer and set out to discover what a good death is today. She attended conferences, academic lectures, and grief sessions in church basements. She went to Montana to talk with the attorney who successfully argued for the legalization of aid in dying, and to Scranton, Pennsylvania, to listen to "pro-life" groups who believe the removal of feeding tubes from some patients is tantamount to murder. Above all, she listened to the stories of those who were close to death.

What Neumann found is that death in contemporary America is much more complicated than we think. Medical technologies and increased life expectancies have changed the very definition of medical death. And although death is our common fate, it is also a divisive issue that we all experience differently. What constitutes a good death is unique to each of us, depending on our age, race, economic status, culture, and beliefs. What's more, differing concepts of choice, autonomy, and consent make death a contested landscape, governed by social, medical, legal, and religious systems.

In these pages, Neumann brings us intimate portraits of the nurses, patients, bishops, bioethicists, and activists who are shaping the way we die. The Good Death presents a fearless examination of how we approach death, and how those of us close to dying loved ones live in death's wake.
Praise For The Good Death: An Exploration of Dying in America…
"Neumann...takes an unflinching look at the reality of dying and end-of-life decisions...A valuable discussion of the complex issues involved in end-of-life care."
—Kirkus Reviews

"Readers seeking a refreshing examination of an ever-changing singular human experience will appreciate this concise and accessible volume that combines curiosity, modernity, and compassion."
—Library Journal

"Through elegant prose, Neumann's The Good Death thoughtfully tries to make sense of the process of dying and to learn what makes a good death."
—Jessica Bylander, Health Affairs

"Ann Neumann's father wanted to die quietly at home. Most Americans share this wish, but it frequently doesn't happen that way. We most often die not in the arms of those we love, but in rooms full of bewildering machinery and uniformed professionals. Caught up in the medical paradigm of cure, we assent to heroic measures we didn't want in hospitals we deplore. In The Good Death, Neumann sets out to understand this modern tragedy, volunteering as a hospice worker and developing deep attachments to the dying people with whom she works, hoping that frequent encounters with mortality will demystify it."
—Andrew Solomon, New York Times Book Review

"At once detailed and accessible, The Good Death chronicles the history of the modern American death, including landmark cases the reader will recognize as having changed the course of media portrayal of living and dying in America. Neumann deftly navigates these situations and humanizes all sides of arguments for what makes a good death or life...A must-read for physicians and those passionate about care for the dying in this country, The Good Death provides additional context outside the specific realm of health care, or rather reminds us how we might impact the daily living and dying for all Americans, no matter socioeconomic circumstance or credo."
—Pallimed

"If The Good Death is anything, it is a call for people to examine their own wishes around end-of-life issues and decide what role religion—either theirs or that of their caregivers—will play."
—Kimberly Winston, Religion News Service

"Fascinating...If you have to take the big trip, having Neumann by your side wouldn't be a bad way to go. She's the kind of empathetic, dedicated, above-and-beyond hospice volunteer you'd imagine from a movie."
—Libby Copeland, Slate

"Has there ever been a subject as chained to euphemism as what we now politely call end-of-life issues? Ann Neumann takes death head-on. With unflinching honesty and searing prose, The Good Death confronts the entwined realities of dying and surviving in all their complexity and pathos. It is that rare book that is at once a tremendously moving reflection and a clear-eyed approach to moments we all must face."
—Peter Manseau, author of One Nation Under Gods

"The Good Death is a work of fierce empathy, at times profoundly compassionate and at times driven by a sharp sense of the absurdities and injustices of the American way of dying. Neumann is part investigative journalist, part memoirist, an elegant and clear-eyed writer drawing from all corners of argument and experience to summon us to a better, more honest way of thinking about how we care for the dying and how we, too, will confront death in our time."
—Jeff Sharlet, author of Sweet Heaven When I Die

"A powerful, elegant look at how we face death: both the ways we try to stave it off and the process of accepting its inevitability. Neumann leads us through the complicated legal, religious, and ethical labyrinths that surround dying in America, revealing the ways by which we measure the value of life."
—Colin Dickey, author of Afterlives of the Saints
Beacon Press, 9780807076996, 248pp.
Publication Date: February 7, 2017
About the Author
Ann Neumann is a visiting scholar at the Center for Religion and Media at New York University, where she is a contributing editor to the Revealer. Her articles have appeared in the New York Times, Bookforum, the Nation, and Guernica. This is her first book.
or
Not Currently Available for Direct Purchase