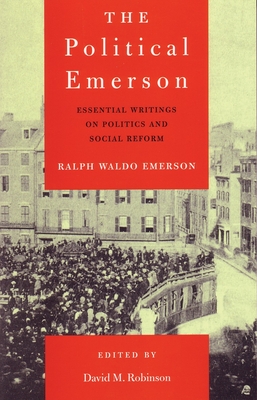 The Political Emerson: Essential Writings on Politics and Social Reform (Paperback)
Essential Writings on Politics and Social Reform
Beacon Press (MA), 9780807077238, 212pp.
Publication Date: September 23, 2004
* Individual store prices may vary.
or
Not Currently Available for Direct Purchase
Description
Ralph Waldo Emerson (1803-1882) never considered himself a political thinker. And yet he rose to prominence during one of the most turbulent times in U.S. history. As a result, political questions grew in importance for him, becoming by the 1860s one of his chief concerns as a public intellectual. In The Political Emerson, David M. Robinson has brought together for the first time the best of Emerson's numerous writings on politics and social reform.
About the Author
David M. Robinson is a leading authority on Emerson and the New England Transcendentalist movement. He is the author and editor of numerous books, including "The Spiritual Emerson" and "Emerson and the Conduct of Life." He is Oregon Professor of English and head of the American Studies program at Oregon State University in Corvallis.
Praise For The Political Emerson: Essential Writings on Politics and Social Reform…
The Political Emerson, is another important contribution to the ongoing reevaluation of the most important cultural figure in nineteenth-century America. This collection specifically answers those critics who maintained for years that Emerson was an aloof philosopher, far removed from the political turmoil and social drama of the 'era of reform' in which he lived. Instead, we now see clearly that Emerson was at the epicenter of change, constantly urging his fellow citizens to insure that equality, freedom, and justice were the natural birthright of all Americans. It is a message well worth hearing again today. --Len Gougeon, author of Virtue's Hero: Emerson, Antislavery, and Reform

"Spirituality has political implications. It always has; it always will. As a minister, Emerson put spiritual integrity first-knowing that he could not thereby avoid the political concerns of his time. He saw all human beings as moral subjects and resisted treating them as mere objects. David Robinson, in this anthology, gives us Emerson as a relevant resource for the spiritually grounded political resistance still required today."--John Buehrens, author of Understanding the Bible: An Introduction for Skeptics, Seekers, and Religious Liberals
Advertisement