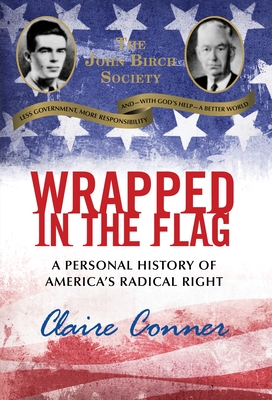 Wrapped in the Flag: A Personal History of America's Radical Right (Hardcover)
A Personal History of America's Radical Right
Beacon Press (MA), 9780807077504, 264pp.
Publication Date: July 2, 2013
* Individual store prices may vary.
or
Not Currently Available for Direct Purchase
Description
This is a narrative history of the John Birch Society, told through the memoirs of Claire Conner, a woman growing up in one of the founding fathers' homes. Both Claire's mother and father were deeply involved Birchers, and Claire herself became the society's youngest member when she was pushed by her parents to join the society at 13 years old. Through this up close and personal look at the organization, we see how this radical movement of the 60s resonates eerily with the causes championed by the Republican Presidential candidates and the Tea Party today.
About the Author
Claire Conner's father was a national spokesperson for the John Birch Society for more than thirty years; her mother was also a staunch follower. Conner holds a degree in English with honors from the University of Dallas and a graduate degree from the University of Wisconsin. She lives in Tampa, Florida.
Praise For Wrapped in the Flag: A Personal History of America's Radical Right…
"Both of Claire Conner's parents were deeply involved in the cult of far right politics: they knew that Eisenhower was a secret Communist and they idolized Francisco Franco. Wrapped in the Flag is at once the heartbreaking and intermittently hilarious story of her coming of age and a first-hand history of the far right since the 1950s. Conner's book is required reading for anyone who wants to understand the sources of the conspiratorial, hate-filled tropes of the right today—whether they emanate from the Tea Party, the gun movement, race realists, Sovereign Citizens, or, increasingly, from elected officials in the GOP." —Arthur Goldwag, author of The New Hate: Fear and Loathing on the Populist Right

"An invaluable contribution to understanding the mentality of extremist conservatism and its supporters."  —Kirkus, starred review

"The John Birch Society had a huge impact on American politics. They were responsible for the lurch into insanity. The religious right, the Tea Party and the takeover of the Republican Party by extremists can't be understood unless you understand the paranoid xenophobia Birchers injected into America. This book is about a journey through and out of that Bircher netherworld. It's a vital piece of the puzzle to understanding the madness that overcame America and a moving story about one person's journey back to sanity." —Frank Schaeffer, author of Crazy For God

"Experiencing this splendid volume is like reading a history book inside out: events you only knew about from afar are revealed anew, with the striking ground-level intimacy of a fine family memoir. I've been waiting for a book like this: one that demonstrates the shockingly effectual continuity of the John Birch Society as a force in American political life: from its early days discrediting the Cold War credentials of JFK, to its outsized role building up grassroots momentum in the Clinton impeachment, to its sudden eruption into mainstream Republican thinking with the rise of the Tea Party movement." —Rick Perlstein, author of Nixonland

"This passionate, personal history of the John Birch Society is timely and important.  At a moment when Tea Party activists have embraced many of the Birchers' most outrageous notions, Claire Conner has performed a great service by reminding us of the origins of some of most virulent ideas that continue to pollute our body politic.  As the skeptical daughter of two passionate Birchers, Conner may be the only person who could have written such a clear-eyed, insider's account of the persistent dangers of right-wing extremism." —Charles Kaiser, author of 1968 In America and The Gay Metropolis

"An affecting portrait of late-20th-century America on the fringe." —Publishers Weekly

"This insider's view of the most radical right-wing organization of the Cold War era describes the seeming paranoia and questionable logic of the most devoted JBS members. Conner provides colorful descriptions of many of the eccentric JBS leaders, including founder Robert Welch. . . . Readers interested in learning more about this example of the Cold War era's ultraconservative political trends will be fascinated by Conner's description of the perpetual fear of JBS members regarding communist takeovers and communist infiltration of the highest levels of our government. Recommended." —Library Jounal
 
Advertisement