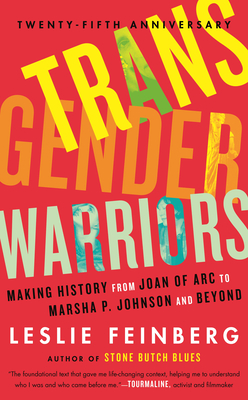 Transgender Warriors (Paperback)
Making History from Joan of Arc to Dennis Rodman
Beacon Press, 9780807079416, 240pp.
Publication Date: June 30, 1997
* Individual store prices may vary.
Description
With a New Afterword
About the Author
Leslie Feinberg has been a grassroots activist, journalist, and lecturer on behalf of the lesbian/gay/bi and transgender movements. S/he is the author of the acclaimed novel Stone Butch Blues.
Praise For Transgender Warriors: Making History from Joan of Arc to Dennis Rodman…
Men and women have had their histories. This is the history book for the rest of us.--Kate Bornstein, author of Gender Outlaw

"[Transgender Warriors] leaves us with a sense that a transgendered concept of what it is to be fully human and psychologically whole is both valid and nothing new. A brief review cannot do justice to this amazing resource, not only for our communities, but for the world."--Patricia Roth Schwartz, Lambda Book Report

"[Transgender Warriors] does far more than document the history of transgenders. It delves into the transgender experience, inviting the reader to consider a spectrum of gender possibilities." --Linda Gebroe, San Francisco Chronicle Book Review

"No book since Toni Morrison's Beloved gives so much and holds itself so well. History becomes art, the political becomes transformative, the personal becomes universal." --Craig Hickman, Gay Community News

"The challenge Feinberg sets forth-a complex, multisided one-is to take up the banner of feminism and extend it, stretch it, until it has room for all women."--Rosemarie C. Sultan, Sojourner

"A ground-breaking gift to both the transgender community and the world at large."--Rachel Reed, Synapse

"A well-written, well-researched compendium of transgender history."--Harriet L. Schwartz, Philadelphia Gay News

"Nobody will remain unaffected by this book." --Heather Findlay, Girlfriends