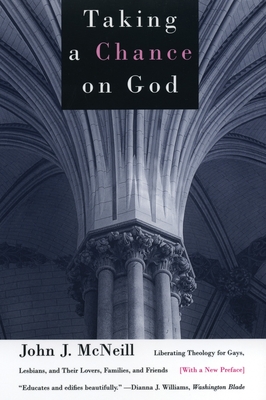 Taking a Chance on God (Paperback)
Liberating Theology for Gays, Lesbians, and Their Lovers, Families, and Friends
Beacon Press, 9780807079454, 238pp.
Publication Date: May 1, 1996
* Individual store prices may vary.
Description
Taking a Chance on God explores how lesbians and gay men can claim both a positive gay identity and a fulfilling life of Christian faith.
About the Author
John J. McNeill (1925-2015) was an ordained priest and practicing psychotherapist. In 1987, he was expelled from the Society of Jesus for refusing to cease his ministry to gay men and lesbians. He received a doctorate in philosophy from Louvain University in Belgium and taught philosophy and theology at Fordham University, Union Theological Seminary, and other institutions. McNeill was the author of several works on theology and sexuality, including Taking a Chance on God and Freedom, Glorious Freedom.
Praise For Taking a Chance on God: Liberating Theology for Gays, Lesbians, and Their Lovers, Families, and Friends…
McNeill draws on the insights of the gay and lesbian liberation movement, his counseling experience with lesbian and gay people, and a variety of faith traditions--Catholic, mainstream Protestant, Evangelical and other world religions--to produce a unique, comprehensive, life-giving ethic.
--Equal Time

"Taking a Chance on God offers insights into human relationships and human health from which all persons, whether homosexual or heterosexual, can learn."
--America