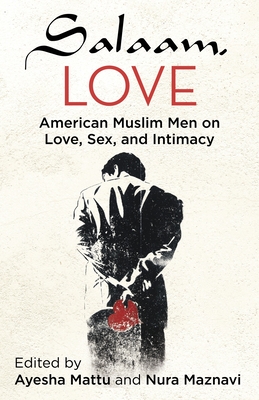 Salaam, Love
American Muslim Men on Love, Sex, and Intimacy
Paperback

* Individual store prices may vary.
Description
From the editors of the groundbreaking anthology Love, InshAllah comes a provocative new exploration of the most intimate parts of Muslim men's lives

Muslim men are stereotyped as either oversexed Casanovas willing to die for seventy-two virgins in heaven or controlling, big-bearded husbands ready to rampage at the hint of dishonor. The truth is, there are millions of Muslim men trying to figure out the complicated terrain of love, sex, and relationships just like any other American man.
 
In Salaam, Love, Ayesha Mattu and Nura Maznavi provide a space for American Muslim men to speak openly about their romantic lives, offering frank, funny, and insightful glimpses into their hearts—and bedrooms. The twenty-two writers come from a broad spectrum of ethnic, racial, and religious perspectives—including orthodox, cultural, and secular Muslims—reflecting the strength and diversity of their faith community and of America.
 
By raising their voices to share stories of love and heartbreak, loyalty and betrayal, intimacy and insecurity, these Muslim men are leading the way for all men to recognize that being open and honest about their feelings is not only okay—it's intimately connected to their lives and critical to their happiness and well-being.
Praise For Salaam, Love: American Muslim Men on Love, Sex, and Intimacy…
"This is a magnificent collection. It's all here: love, loss, confusion, sex, and more than sex, that magical quest for intimacy. In short, what it means to be human: seeking, finding, losing, cherishing. A wonderful contribution to American Muslim narratives in their own voices."
—Omid Safi, author of Memories of Muhammad: Why the Prophet Matters

"This diverse and humane anthology documents what heartbreak and hilarity goes down (often in silence) in the American-Muslim community. It should also confuse government agents."
—Ali Eteraz, author of Children of Dust: A Portrait of a Muslim as a Young Man
 
"Intimate and compelling, Salaam, Love is a glimpse of the emotional balancing act American Muslim men face as they navigate the demands of faith, family and their own hearts. A must-read."
—G. Willow Wilson, author of Alif the Unseen

"Salaam, Love is an important book because it sheds light on a subject that is unknown and scary to many Americans: Muslim men and their relationship to love, sex, and intimacy. It's a book that shows how similar we all are, how much we have in common, when there's so much hate-based propaganda floating around about how different we all are. But beyond being an important book, it's also a great read. Funny, sad, cool, hot, counterintuitive, and perhaps most importantly, sexy."
—David Henry Sterry, author of Chicken: Self-Portrait of a Young Man for Rent

"While many of the tales end in marriage, none ignore the flaws and difficulties presented by romantic relationships. Throughout, there are men who lost love, lost themselves and found things they weren't looking for, as well as those still searching. Whether read all together or in single doses, faith and love abound, and there is no shortage of entertainment. In the introduction, the editors write, 'There's nothing like a good love story to connect us to one another and also help satisfy our curiosity about the lives of others.' This collection proves the honesty in that assertion." —Kirkus Reviews

"Simultaneously lighthearted entertainment and an important addition to public discourse around the place of Islam in America.… Indeed, the entire collection seeks to offer as much variety as possible, with stories reflecting a broad range of sexuality, ethnicity, religiosity, and romantic success. In this way, it pushes back against common cultural stereotypes of both Muslims and men, showing Muslims with a full range of ordinary American life experiences and showing men with tender and heartfelt emotions that they articulate beautifully. For insiders to the community, this work will prompt joyful recognition as well as thoughtful exploration of different experiences; for outsiders, it will counter one-dimensional negative images about American Muslims. For everyone it will be an insightful, thoroughly charming read." —Publishers Weekly
Beacon Press, 9780807079751, 248pp.
Publication Date: February 4, 2014
About the Author
Ayesha Mattu is a writer and international development consultant. She lives in San Francisco.

Nura Maznavi is a civil rights attorney, writer, and Fulbright scholar. She lives in Chicago.
Coverage from NPR
or
Not Currently Available for Direct Purchase