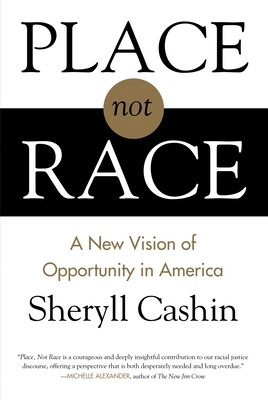 Place, Not Race
A New Vision of Opportunity in America
Paperback

* Individual store prices may vary.
Other Editions of This Title:
Hardcover (5/6/2014)
Description
From a nationally recognized expert, a fresh and original argument for bettering affirmative action
 
Race-based affirmative action had been declining as a factor in university admissions even before the recent spate of related cases arrived at the Supreme Court. Since Ward Connerly kickstarted a state-by-state political mobilization against affirmative action in the mid-1990s, the percentage of four-year public colleges that consider racial or ethnic status in admissions has fallen from 60 percent to 35 percent. Only 45 percent of private colleges still explicitly consider race, with elite schools more likely to do so, although they too have retreated.

For law professor and civil rights activist Sheryll Cashin, this isn't entirely bad news, because as she argues, affirmative action as currently practiced does little to help disadvantaged people. The truly disadvantaged—black and brown children trapped in high-poverty environs—are not getting the quality schooling they need in part because backlash and wedge politics undermine any possibility for common-sense public policies. Using place instead of race in diversity programming, she writes, will better amend the structural disadvantages endured by many children of color, while enhancing the possibility that we might one day move past the racial resentment that affirmative action engenders.

In Place, Not Race, Cashin reimagines affirmative action and champions place-based policies, arguing that college applicants who have thrived despite exposure to neighborhood or school poverty are deserving of special consideration. Those blessed to have come of age in poverty-free havens are not. Sixty years since the historic decision, we're undoubtedly far from meeting the promise of Brown v. Board of Education, but Cashin offers a new framework for true inclusion for the millions of children who live separate and unequal lives. Her proposals include making standardized tests optional, replacing merit-based financial aid with need-based financial aid, and recruiting high-achieving students from overlooked places, among other steps that encourage cross-racial alliances and social mobility.
 
A call for action toward the long overdue promise of equality, Place, Not Race persuasively shows how the social costs of racial preferences actually outweigh any of the marginal benefits when effective race-neutral alternatives are available.
Praise For Place, Not Race: A New Vision of Opportunity in America…
"A sensible proposal backed by hard data."
—Kirkus Reviews

"Cashin sketches the legal and political history of affirmative action, and attends to both resentful whites (Obama's 'election seems to have exacerbated the perception gap about racial inequality') and advantaged blacks ('Economic elites of all colors enjoy built-in advantages in the withering competition for spaces at choice schools')." —Publishers Weekly

"More than 30 years later, a former Supreme Court clerk to Justice Marshall, Georgetown University Law Professor Sheryll Cashin, makes a powerful case that it's time to rethink her former boss's support for racial preferences. The place to begin, she argues in her brilliant new book, is an affirmative action that responds directly to the failure of the Brown decision to desegregate schools. . . . Skillfully blending her personal story as an upper-middle-class black professional with a wide range of research on what constitute the biggest barriers to success today, Cashin provides a compelling blueprint for a new, much stronger, form of affirmative action based on actual disadvantage. . . .But overall, Cashin's agenda provides a huge step forward from those liberals who would hold on to Justice Marshall's plan for a century of racial preferences. While seemingly progressive, such policies in practice are deeply conservative, she correctly contends." —New Republic

"Place, Not Race is a courageous and deeply insightful contribution to our racial justice discourse, offering a perspective that is both desperately needed and long overdue."
—Michelle Alexander, author of The New Jim Crow

"A thought-provoking look at affirmative action in America. Whether you agree or disagree with her ideas, it is an important debate for our country to have, and Place, Not Race is a critical contribution to that debate."
—Benjamin Todd Jealous, president and CEO, National Association for the Advancement of Colored People

"Professor Sheryl Cashin has written a bold, bracing book that will generate useful controversy over competing strategies for overcoming social inequalities in America. Deeply knowledgeable about her volatile subject, she illuminates it with keen insight and vivid writing that is attractively accessible. Even those who disagree with Cashin will likely derive much value from reading her."
—Randall Kennedy, author of For Discrimination: Race, Affirmative Action, and the Law and Nigger: The Strange Career of a Troublesome Word
 
"As America becomes more diverse, it paradoxically finds itself increasingly stratified on the basis of place rather than race. Sheryll Cashin's refreshing call for a new multiracial politics of inclusion is a timely and greatly needed addition to the civil rights debate, one that deserves strong support among Americans of all origins."
—Douglas S. Massey, author of American Apartheid: Segregation and the Making of the Underclass

"If you think everything possible about affirmative action has already been said, think again. Sheryll Cashin has given us a breakthrough book. America is segregated by a devastating mixture of economics and race. Why not build a policy that benefits children—of all races—who live on the wrong side of the tracks? Provocative and illuminating, Place, Not Race presents a brave new argument for bettering affirmative action in the 21st century."
—Peter B. Edelman, author of So Rich, So Poor: Why It's So Hard to End Poverty in America  
Beacon Press, 9780807080405, 176pp.
Publication Date: May 5, 2015
About the Author
Sheryll Cashin, professor of law at Georgetown University, is the author of The Agitator's Daughter and The Failures of Integration. Cashin has published widely in academic journals and print media and is a frequent commentator on law and race relations, having appeared on NPR, CNN, ABC News, and numerous other outlets. Born and raised in Huntsville, Alabama, where her parents were political activists, Cashin was a law clerk to Supreme Court Justice Thurgood Marshall and served in the Clinton White House as an advisor on urban and economic policy. She lives with her husband and two sons in Washington, DC.