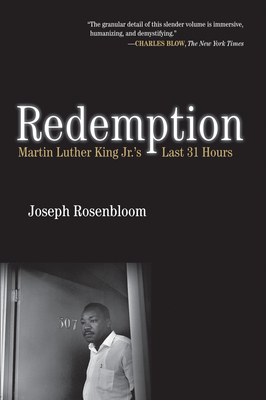 Redemption
Martin Luther King Jr.'s Last 31 Hours
Hardcover

* Individual store prices may vary.
Other Editions of This Title:
Digital Audiobook (3/26/2018)
Paperback (1/15/2019)
MP3 CD (3/27/2018)
Compact Disc (3/27/2018)
Description
An "immersive, humanizing, and demystifying" (Charles Blow, New York Times) look at the final hours of Dr. King's life as he seeks to revive the non-violent civil rights movement and push to end poverty in America.

At 10:33 a.m. on April 3, 1968, Dr. Martin Luther King, Jr., landed in Memphis on a flight from Atlanta. A march that he had led in Memphis six days earlier to support striking garbage workers had turned into a riot, and King was returning to prove that he could lead a violence-free protest.

King's reputation as a credible, non-violent leader of the civil rights movement was in jeopardy just as he was launching the Poor Peoples Campaign. He was calling for massive civil disobedience in the nation's capital to pressure lawmakers to enact sweeping anti-poverty legislation. But King didn't live long enough to lead the protest. He was fatally shot at 6:01 p.m. on April 4 in Memphis.

Redemption is an intimate look at the last thirty-one hours and twenty-eight minutes of King's life. King was exhausted from a brutal speaking schedule. He was being denounced in the press and by political leaders as an agent of violence. He was facing dissent even within the civil rights movement and among his own staff at the Southern Christian Leadership Conference. In Memphis, a federal court injunction was barring him from marching. As threats against King mounted, he feared an imminent, violent death. The risks were enormous, the pressure intense.

On the stormy night of April 3, King gathered the strength to speak at a rally on behalf of sanitation workers. The "Mountaintop Speech," an eloquent and passionate appeal for workers' rights and economic justice, exhibited his oratorical mastery at its finest.

Redemption draws on dozens of interviews by the author with people who were immersed in the Memphis events, features recently released documents from Atlanta archives, and includes compelling photos. The fresh material reveals untold facets of the story including a never-before-reported lapse by the Memphis Police Department to provide security for King. It unveils financial and logistical dilemmas, and recounts the emotional and marital pressures that were bedeviling King. Also revealed is what his assassin, James Earl Ray, was doing in Memphis during the same time and how a series of extraordinary breaks enabled Ray to construct a sniper's nest and shoot King.

Original and riveting, Redemption relives the drama of King's final hours.
Praise For Redemption: Martin Luther King Jr.'s Last 31 Hours…
"The granular detail of this slender volume is immersive, humanizing, and demystifying."
—Charles Blow, The New York Times

"Redemption portrays a complex and challenging man whose legacy of visionary and courageous eloquence and action still offers hope for a more inclusive and peaceful America 50 years after his assassination."
—Booklist, Starred Review

"Thorough research and myriad story lines work together perfectly throughout. Redemption becomes a valuable account not only of what happened in King's final days but of all the historical momentum that was lost on April 4, 1968."
—ForeWord Reviews, Starred Review

"A skillful depiction of the people and the scenes surrounding the killing of the champion of the civil rights movement."
—Kirkus Reviews

"Rosenbloom paints a taut and detailed picture of King's and his assassin's movements in Memphis. The final hours of King's life come into sharp focus in this must-read for anyone interested in the life of the civil rights leader."
—Library Journal

"In this crisply wrought story, in this absolute thriller, I read courage like never before. Joseph Rosenbloom walks us through an American tragedy, a righteous American tragedy of a Martin Luther King Jr. unstinting in his final movement against poverty and racism. King comes to life in death—a courage ever so inspiring."
—Ibram X. Kendi, author of Stamped from the Beginning: The Definitive History of Racist Ideas in America

"Martin Luther King Jr. has remained a towering figure through so many decades, during which his dream has gone unfulfilled, that any account of his death at thirty-nine by an assassin's bullet outside a Memphis hotel still shocks, still feels freshly tragic. Yet Joseph Rosenbloom's Redemption is like no other. He tells the suspenseful story of King's last days in remarkable detail, illuminating King's increasing radicalism and intensifying purpose in a narrative that takes in both the worst and the best of human possibility."
—Megan Marshall, Pulitzer Prize–winning author of Margaret Fuller: A New American Life and Elizabeth Bishop: A Miracle for Breakfast

"Joe Rosenbloom commits an extraordinary act of scholarship and storytelling to summon a moment that still echoes in the American soul. He turns Memphis itself into a kind of character, full of flaws and yearnings and aching hopes, as vividly rendered in Rosenbloom's hands as the great Martin King himself. As city and man wrestle toward their shared destinies, what takes shape is a masterpiece of narrative history. A deeply moving book."
—Ron Suskind, Pulitzer Prize–winning journalist and author of A Hope in the Unseen

"A compelling and meticulously researched account by investigative journalist Joseph Rosenbloom, Redemption casts Martin Luther King Jr.'s last thirty-one hours into bold relief. With artful story-telling, the narrative draws the reader intimately into King's life and courageous moments at a time of grave danger to himself and the civil rights movement, constantly rewinding to provide crucial context. King's initial struggle to bolster striking sanitation workers in Memphis becomes a piece of the larger, transcendent story that Redemption vividly explores, one that still resonates powerfully today. It is the story of King's urgent crusade to end poverty in America."
—Michael K. Honey, author of Going Down Jericho Road: The Memphis Strike, Martin Luther King's Last Campaign

"In this gripping account of the King assassination, Joseph Rosenbloom does more than recover the story of the hours leading up to that fateful shot at the Lorraine Motel in Memphis, April 1968. Writing with the urgency of a journalist's pen, Rosenbloom melts time away to redeem the fully human struggle of a man, a leader, under enormous pressure, risking his reputation and his life, trying to answer the question, Where do we go from here? The result is not only an absorbing narrative of what happened; it offers readers a chance to reflect on what might have been."
—Henry Louis Gates Jr., Alphonse Fletcher University Professor, Harvard University
Beacon Press, 9780807083383, 216pp.
Publication Date: March 27, 2018
About the Author
Joseph Rosenbloom is an award-winning journalist who has been a staff reporter for the Boston Globe, an investigative reporter for Frontline, and a senior editor for Inc. magazine. He has written for the Wall Street Journal, New York Times, American Prospect, among other publication, and lives in Newton, Massachusetts.
Coverage from NPR
or
Not Currently Available for Direct Purchase