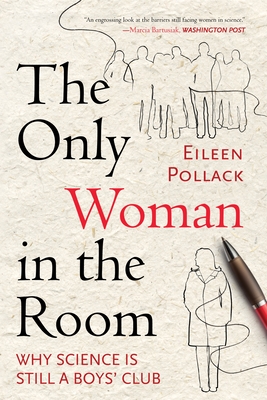 The Only Woman in the Room
Why Science Is Still a Boys' Club
Paperback

* Individual store prices may vary.
Other Editions of This Title:
Hardcover (9/15/2015)
MP3 CD (9/13/2016)
Description
ONE OF WASHINGTON POST'S NOTABLE NONFICTION BOOKS OF THE YEAR

"Beautifully written and full of important insights," this is a bracingly honest exploration of why there are still so few women in the hard sciences, mathematics, engineering, and computer science (Washington Post)

In 2005, when Lawrence Summers, then president of Harvard, asked why so few women, even today, achieve tenured positions in the hard sciences, Eileen Pollack set out to find the answer. A successful fiction writer, Pollack had grown up in the 1960s and '70s dreaming of a career as a theoretical astrophysicist. Denied the chance to take advanced courses in science and math, she nonetheless made her way to Yale. There, despite finding herself far behind the men in her classes, she went on to graduate summa cum laude, with honors, as one of the university's first two women to earn a bachelor of science degree in physics. And yet, isolated, lacking in confidence, starved for encouragement, she abandoned her ambition to become a physicist.

Years later, spurred by the suggestion that innate differences in scientific and mathematical aptitude might account for the dearth of tenured female faculty at Summer's institution, Pollack thought back on her own experiences and wondered what, if anything, had changed in the intervening decades.

Based on six years interviewing her former teachers and classmates, as well as dozens of other women who had dropped out before completing their degrees in science or found their careers less rewarding than they had hoped, The Only Woman in the Room is a bracingly honest, no-holds-barred examination of the social, interpersonal, and institutional barriers confronting women—and minorities—in the STEM fields. This frankly personal and informed book reflects on women's experiences in a way that simple data can't, documenting not only the more blatant bias of another era but all the subtle disincentives women in the sciences still face.

The Only Woman in the Room shows us the struggles women in the sciences have been hesitant to admit, and provides hope for changing attitudes and behaviors in ways that could bring far more women into fields in which even today they remain seriously underrepresented.
Praise For The Only Woman in the Room: Why Science Is Still a Boys' Club…
"Hard-hitting, difficult to read, and impossible to put down." 
—Kirkus Reviews

"Honest, readable, and brave."
—Library Journal

"Offering an engrossing look at the barriers still facing women in science...Pollack draws attention to this important and vexing problem with a personal narrative, beautifully written and full of important insights on the changes needed to make those barriers crumble...Any young woman or man on the way to college to major in science will find great lessons in this book."
—Washington Post

"Her memoir rings authentic, its lessons essential. A bitter pill to swallow but a vital addition to the important and frustratingly ongoing discussion about gender equity."
—Poornima Apte, Booklist

"The Only Woman in the Room is absolutely brilliant—even a sleeping pill and head cold couldn't stop me from reading it through the night.  Pollack's story reveals so much—I want to give it to my children, my husband, my older sister (a biologist), and every physicist I know, perhaps with key passages underlined. And especially, young women in science: read this book!"
—Meg Urry, President of the American Astronomical Society, and former chair of the Department of Physics at Yale University

"With excruciating candor Eileen Pollack details how society's relentless message that girls lack the intrinsic aptitude for high-level math and physics leaves young women without the confidence to stay the course in the brutally competitive environment of high-powered science. This is a riveting, insider's-account of how unconscious biases make a mockery of meritocracy, why women's equality remains elusive, and why Larry Summers was so wrong."
—Nancy Hopkins, Amgen Inc. Professor of Biology (emerita), Massachusetts Institute of Technology

"In Eileen Pollack's vivid description of the issues facing women in science, I immediately saw the truth of what I have lived. Pollack is convincing in showing how the obstacles for women in the U.S. are erected by our culture. In the 1960's my mother had to put up with exclusionary rules that kept her out of a career in science. You would think things might have gotten better for my generation, and for the current generation. But they have not. Eileen Pollack courageously and honestly examines her own life and shows us why."
—Carol Greider, winner of the Nobel Prize in Physiology or Medicine and Daniel Nathans Professor and Chair of the Department of Molecular Biology and Genetics at Johns Hopkins University

"My remarks on women and science generated much heat—if they helped stimulate Eileen Pollack's introspections and reflections, they shed light as well. I certainly understand many aspects of the issue better for reading Pollack's work. We all want great opportunities for all, and as she demonstrates, the world has a long way to go."
—Lawrence H. Summers, Charles W. Eliot University Professor and President Emeritus, Harvard University, and former Secretary of the Treasury
Beacon Press, 9780807083444, 288pp.
Publication Date: September 6, 2016
About the Author
Eileen Pollack is the author of the novels Breaking and Entering (a New York Times Editor's Choice selection) and Paradise, New York, as well as two collections of short fiction, an award-winning book of nonfiction, and two creative-nonfiction textbooks. Her work has appeared in Best American Essays and Best American Short Stories. She is a professor on the faculty of the Helen Zell MFA Program in Creative Writing at the University of Michigan. She divides her time between Manhattan and Ann Arbor, Michigan.