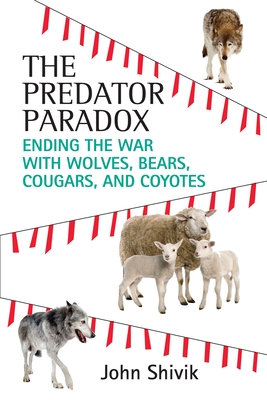 The Predator Paradox
Ending the War with Wolves, Bears, Cougars, and Coyotes
Hardcover

* Individual store prices may vary.
Description
An expert in wildlife management tells the stories of those who are finding new ways for humans and mammalian predators to coexist.
 
Stories of backyard bears and cat-eating coyotes are becoming increasingly common—even for people living in non-rural areas. Farmers anxious to protect their sheep from wolves aren't the only ones concerned: suburbanites and city dwellers are also having more unwanted run-ins with mammalian predators.

And that might not be a bad thing. After all, our government has been at war with wildlife since 1914, and the death toll has been tremendous: federal agents kill a combined ninety thousand wolves, bears, coyotes, and cougars every year, often with dubious biological effectiveness. Only recently have these species begun to recover. Given improved scientific understanding and methods, can we continue to slow the slaughter and allow populations of mammalian predators to resume their positions as keystone species?

As carnivore populations increase, however, their proximity to people, pets, and livestock leads to more conflict, and we are once again left to negotiate the uneasy terrain between elimination and conservation. In The Predator Paradox, veteran wildlife management expert John Shivik argues that we can end the war while still preserving and protecting these key species as fundamental components of healthy ecosystems. By reducing almost sole reliance on broad scale "death from above" tactics and by incorporating nonlethal approaches to managing wildlife—from electrified flagging to motion-sensor lights—we can dismantle the paradox, have both people and predators on the landscape, and ensure the long-term survival of both.

As the boundary between human and animal habitat blurs, preventing human-wildlife conflict depends as much on changing animal behavior as on changing our own perceptions, attitudes, and actions. To that end, Shivik focuses on the facts, mollifies fears, and presents a variety of tools and tactics for consideration.

Blending the science of the wild with entertaining and dramatic storytelling, Shivik's clear-eyed pragmatism allows him to appeal to both sides of the debate, while arguing for the possibility of coexistence: between ranchers and environmentalists, wildlife managers and animal-welfare activists, and humans and animals.
Praise For The Predator Paradox: Ending the War with Wolves, Bears, Cougars, and Coyotes…
"Both ranchers and predator advocates will have something to learn from Shivik's survey." —Publishers Weekly

"A fair introduction for the non-initiated reader as well as a resource for those with vested interest in the issue." —The Deseret News

"Shivik's style makes the science accessible and relevant for general readers. The narrative is carried by the author's insights, admonitions and the engaging profiles of those working to resolve the predator paradox." —Kirkus Reviews

"[Shivik's] book is a highly readable review of an extensive body of knowledge on how to behave around predators without killing them." —James M. Peek, BioScience

"A masterful storyteller and bold critic, Shivik provides realistic, hands-on solutions to help us share the landscape effectively."
—High Country News

"Shivik, one of the world's best practitioners and clearly among America's top thinkers on wildlife management, has produced a shocking yet remarkable read about the USA's tense relationship with wonderfully charismatic carnivores. For anyone interested in the present or past (or future) of how we treat wildlife—and, importantly, why—this is the book to read. It has balance, pizazz, and depth."
—Joel Berger, Craighead Chair of Wildlife Biology, University of Montana, and Senior Scientist , Wildlife Conservation Society, author of The Better to Eat You with: Fear in the Animal World

"Dr. Shivik artfully blends facts, humor, and his vast personal experience into a thought-provoking read about the reality of living with large carnivores. He blends wildlife science with human and wildlife behavior to examine what coexisting with predators really means in a landscape that we live, work, and play in and raise our children, pets, and livestock. We need to hear his message. It is a well-written, pragmatic, and enjoyable book that I recommend to anyone interested in conservation of human lifestyles, nature, and wildlife."
—Edward Bangs, Wolf Recovery Coordinator, U. S. Fish and Wildlife Service (retired)

"John Shivik and fellow wildlife biologists are trying to solve the predator paradox: how to preserve predators and save people and their endeavors from them."
—Jim Sterba, author of Nature Wars
 
"This book is for anyone who hates predators, loves predators, or is curious about predators. Dr. Shivik, an expert in predator ecology and management, has woven together an even-handed portrayal of human-wildlife conflicts and a fascinating overview of key behavioral studies along with wonderful sketches of the researchers who are facing this paradox head-on. I expect this beautifully written narrative will increase public awareness, understanding, and appreciation of the wild creatures that share our world--and of the people who work on their behalf."
—Winifred B. Kessler, PhD, 2012-13 President of the Wildlife Society
Beacon Press, 9780807084960, 208pp.
Publication Date: May 13, 2014
About the Author
John Shivik is a recognized leader in nonlethal techniques for predator management. As a federal and university researcher, he has investigated mammalian predators in ecological systems throughout the United States and Europe. His numerous scientific works have been published in the Journal of Wildlife Management, Conservation Biology, and BioScience.
or
Not Currently Available for Direct Purchase