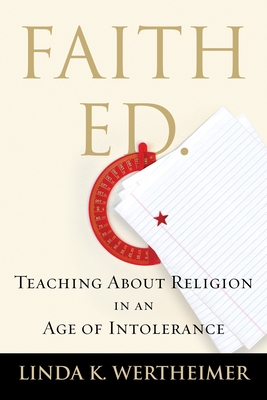 Faith Ed
Teaching About Religion in an Age of Intolerance
Hardcover

* Individual store prices may vary.
Other Editions of This Title:
Digital Audiobook (2/19/2018)
Compact Disc (5/15/2018)
MP3 CD (5/15/2018)
Paperback (8/23/2016)
Description
An intimate cross-country look at the new debate over religion in the public schools
 
A suburban Boston school unwittingly started a firestorm of controversy over a sixth-grade field trip. The class was visiting a mosque to learn about world religions when a handful of boys, unnoticed by their teachers, joined the line of worshippers and acted out the motions of the Muslim call to prayer. A video of the prayer went viral with the title "Wellesley, Massachusetts Public School Students Learn to Pray to Allah." Charges flew that the school exposed the children to Muslims who intended to convert American schoolchildren. Wellesley school officials defended the course, but also acknowledged the delicate dance teachers must perform when dealing with religion in the classroom.

Courts long ago banned public school teachers from preaching of any kind. But the question remains: How much should schools teach about the world's religions? Answering that question in recent decades has pitted schools against their communities.

Veteran education journalist Linda K. Wertheimer spent months with that class, and traveled to other communities around the nation, listening to voices on all sides of the controversy, including those of clergy, teachers, children, and parents who are Muslim, Jewish, Christian, Sikh, or atheist. In Lumberton, Texas, nearly a hundred people filled a school-board meeting to protest a teacher's dress-up exercise that allowed freshman girls to try on a burka as part of a lesson on Islam. In Wichita, Kansas, a Messianic Jewish family's opposition to a bulletin-board display about Islam in an elementary school led to such upheaval that the school had to hire extra security. Across the country, parents have requested that their children be excused from lessons on Hinduism and Judaism out of fear they will shy away from their own faiths.

But in Modesto, a city in the heart of California's Bible Belt, teachers have avoided problems since 2000, when the school system began requiring all high school freshmen to take a world religions course. Students receive comprehensive lessons on the three major world religions, as well as on Sikhism, Hinduism, Buddhism, and often Shintoism, Taoism, and Confucianism. One Pentecostal Christian girl, terrified by "idols," including a six-inch gold Buddha, learned to be comfortable with other students' beliefs. 

Wertheimer's fascinating investigation, which includes a return to her rural Ohio school, which once ran weekly Christian Bible classes, reveals a public education system struggling to find the right path forward and offers a promising roadmap for raising a new generation of religiously literate Americans.
Praise For Faith Ed: Teaching About Religion in an Age of Intolerance…
"This book sheds light on the reality that people hide their religious background in a school environment at times out of fear. It may be of value for individuals who have experienced religious intolerance at school or for those linked to public schools by raising awareness for religious groups that may not yet have a voice."
—Library Journal

"This is an important and compelling book."
—The Jewish Advocate

"Insightful and engaging, Faith Ed shows how education fights intolerance. This is an important book, with huge implications for public policy and stronger communities."
—Jonathan Eig, author of The Birth of the Pill and Luckiest Man

"Faith Ed offers deep insights into the combustible issue of teaching religion in American schools. Linda K. Wertheimer combines her personal experience with vivid reporting to reveal the fault lines as well as a pathway to progress. At a time when religion and intolerance are at the heart of conflicts both global and local, this powerful book is required reading."
—Mitchell Zuckoff, author of 13 Hours and Lost in Shangri-La

"Linda Wertheimer has given us a deeply reported, sobering look at the promise and taboos of teaching religion in our public schools. With a sharp eye and open mind, she brings to light the heroes of tolerance, the isolationists who choose safe harbors of ignorance, and the ongoing struggle over what it means to be an American."
—Scott Helman, coauthor of  Long Mile Home: Boston Under Attack, the City's Courageous Recovery, and the Epic Hunt for Justice

"Readers enjoy a front-row seat in the classroom with Linda Wertheimer's revealing book about teaching world religions in the public schools. This is essential reading for everyone concerned about building respect among young people for the diversity of religious faith in America."
—Stephen D. Solomon, author of Ellery's Protest: How One Young Man Defied Tradition and Sparked the Battle over School Prayer

"In Faith Ed, an impassioned journalist takes her readers on a tour of timely topic:  what it is like to teach the world's religions in a climate of hostility and ignorance. The result is a heartfelt plea for open-mindedness and civility, in the classroom and beyond."
—Madeleine Blais, author of In These Girls, Hope Is a Muscle
Beacon Press, 9780807086162, 240pp.
Publication Date: August 18, 2015
About the Author
Linda K. Wertheimer, a former Boston Globe education editor, is the award-winning author of Faith Ed: Teaching About Religion In An Age of Intolerance. During her nearly thirty-year journalism career, she was a reporter at the Dallas Morning News and the Orlando Sentinel as well as for other publications. Her work has appeared in the Washington Post, the New York Times, the Boston Globe Magazine, USA Today, Time, and many other publications. Faith Ed in 2016 won a national book award—second place in the Religion News Association nonfiction religion book contest. She has also won awards for her writing from the Education Writers Association and other organizations. She was a 2014 finalist in the Massachusetts Cultural Council artist fellowship awards. A graduate of Northwestern University's Medill School of Journalism, she lives in the Boston area with her husband and son.
or
Not Currently Available for Direct Purchase