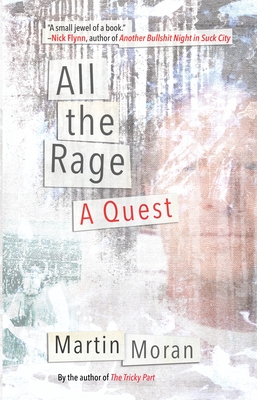 All the Rage
A Quest
Hardcover

* Individual store prices may vary.
Other Editions of This Title:
Digital Audiobook (7/25/2016)
MP3 CD (10/24/2017)
Paperback (1/2/2080)
Paperback (11/24/2013)
Description
A moving and surprisingly funny memoir about finding the right balance between anger and compassion

"Why aren't you angry?" people often asked Martin Moran after he told his story of how he came to forgive the man who sexually abused him as a boy. At first, the question pissed him off. Then, it began to haunt him. Why didn't he have more anger? Why had he never sought redress for the crime committed against him? Was his fury hidden, buried? Was he not man enough? Here he was, an adult in mid-life, with an established acting career, a husband. A life. And yet the question of rage began to obsess him.

As the narrative jumps from dream to memory to theory, from Colorado to New York to Johannesburg, Moran takes us along on his quest to understand the role of rage in our lives. Translating for an asylum seeker and survivor of torture, he wonders how the man is not consumed with the wrong done him, only to shortly thereafter find himself in a wild confrontation with his fuming stepmother at his father's funeral. He admires a pedestrian's furious put-down of a careless driver, and then, observing with a group of sex therapists at an S&M dungeon, he finds himself unexpectedly moved by the intimacy of the interchanges. Hiking the Rockies with his troubled younger brother, he's confronted by the anger and the love that seem to exist simultaneously and in equal measure between them.

With each encounter, we move more deeply into the human complexities at the heart of this book: into how we wrong and are wronged, how we seek redress but also forgiveness, how we yearn to mend what we think broken in us and liberate ourselves from what's past. It is in this landscape of old wounds and complicated loves that Moran shows us how rage may meet compassion and our traumas unexpectedly open us to the humanity of others.
Praise For All the Rage: A Quest…
Praise for All the Rage

"Moran's personal history is beautifully intertwined with his work as an interpreter for Siba, an African refugee seeking asylum in America after being imprisoned and tortured...A courageous release from the pain, guilt, and fury of sexual abuse."
—Kirkus Reviews

"What Martin Moran does so well, as well as any artist I'm aware of, is to exist in real time. I imagine it comes from his years on stage, but this talent (considerable) is difficult to transfer to the page. Yet with a few words, Moran captures, for one bright moment, what it is to be alive. Reading All the Rage is an experience like breathing—it builds and builds until by the end it completely surrounds you. Moran asks at one point if he, dear God, is not finished with this fucking story—yet as readers we stand in awe of his courage to push ever deeper into it, into rage and forgiveness, knowing that nothing is ever done. All the Rage is a small jewel of a book, a jeweled box made of nothing but air, really, which is all we have, in the end."
—Nick Flynn

"Martin Moran is a graceful stylist with a rich, redemptive imagination. His sense of drama is unfailing, as is his sense of humor. Among the best writers, these aren't uncommon gifts. But his courage is. It's the kind required to hunt down one's true self, with curiosity, and determination, and—here's the hard part—love. Most of us look for the selves we want to see. Moran wants to see the self he is."
—Kathryn Harrison

Praise for the work of Martin Moran

"[Moran] leads you into thought- and emotion-stirring territory that you don't often visit...Because he has a novelist's command of the evocative detail, there are times when a precisely rendered moment seems to open a window onto a hauntingly expansive view."
—Ben Brantley, New York Times

"Brilliant, funny, and touching."
—The New Yorker
Beacon Press, 9780807086575, 232pp.
Publication Date: May 17, 2016
About the Author
Martin Moran's previous memoir, The Tricky Part, received the 2005 Lambda Belles Lettres Award and won second place for the Barnes and Noble Discover Great New Writers Award. His one-man play, The Tricky Part, was honored with a 2004 Obie. His recent play, All the Rage, won the 2013 Lucille Lortel Award for Outstanding Off-Broadway Solo Show. His writing has appeared in Ploughshares, the Pushcart Prize anthology, and the New York Times. As an actor he has appeared on television and on and off Broadway in many shows, including Spamalot, Titanic, Cabaret, Bells Are Ringing, Floyd Collins, and The Cider House Rules. Moran lives in New York City with his husband, Henry Stram.
or
Not Currently Available for Direct Purchase