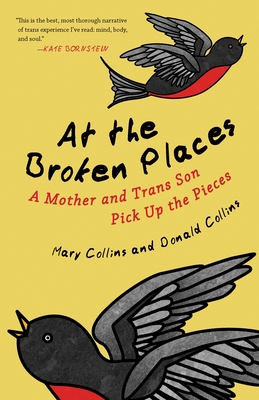 At the Broken Places
A Mother and Trans Son Pick Up the Pieces
Paperback

* Individual store prices may vary.
Description
In this collaborative memoir, a parent and a transgender son recount wrestling with their differences as Donald Collins undertook medical-treatment options to better align his body with his gender identity.

As a parent, Mary Collins didn't agree with her trans son's decision to physically alter his body, although she supported his right to realize himself as a person. Raw and uncensored, each explains her or his emotional mindset at the time: Mary felt she had lost a daughter; Donald activated his "authentic self." Both battled to assert their rights. A powerful memoir and resource, At the Broken Places offers a road map for families in transition.
Praise For At the Broken Places: A Mother and Trans Son Pick Up the Pieces…
"[An] affecting joint memoir...The book is an altogether invaluable and accessible addition to the growing body of transgender literature."
—Booklist

"A practical resource guide for families who have a transgender child in the mix."
—Bay Area Reporter

"The book is frank, informative, and makes an argument not necessarily for radical acceptance but the simple act of sitting down and having a conversation."
—Nina MacLaughlin, The Boston Globe

"When one person in the family transitions, everyone transitions. At the Broken Places is a profoundly vulnerable and brave account of a son struggling to be seen by his mother, and a mother learning to see her child as he sees himself. A necessary and beautiful book."
—Jill Soloway, creator of Transparent

"This is the best, most thorough narrative of trans experience I've read: mind, body, and soul. The two conflicting points of view expand the reader's consciousness, placing us smack dab in the middle of the heart of it all. And the heart of it all is the model of two people who, despite deep disagreements, maintain love and respect for one another."
—Kate Bornstein, author of A Queer and Pleasant Danger and Gender Outlaw

"An insightful resource for families, educators, and mentors, At the Broken Places illuminates the daily stress of figuring out where one fits, and how to get the world to see you as you see yourself."
—Robin McHaelen, executive director, True Colors: Sexual Minority Youth and Family Services
Beacon Press, 9780807088357, 192pp.
Publication Date: April 25, 2017
About the Author
Mary Collins worked for twenty years as a freelance writer and editor for a range of clients, including the National Geographic Society and Smithsonian Institution. She is currently a professor of nonfiction at Central Connecticut State University.

Donald Collins is a trans advocate, writer, and recent cum laude graduate of Emerson College. His culture and commentary writing has appeared in PopMatters, Salon, and Next Magazine, among others.