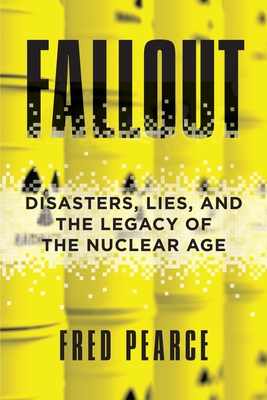 Fallout
Disasters, Lies, and the Legacy of the Nuclear Age
Hardcover

* Individual store prices may vary.
Other Editions of This Title:
Digital Audiobook (5/21/2018)
Paperback (3/26/2019)
MP3 CD (5/22/2018)
Compact Disc (5/22/2018)
Description
An investigation into our complicated 8-decade-long relationship with nuclear technology, from the bomb to nuclear accidents to nuclear waste.

From Hiroshima to Chernobyl, Fukushima to the growing legacy of lethal radioactive waste, humanity's struggle to conquer atomic energy is rife with secrecy, deceit, human error, blatant disregard for life, short-sighted politics, and fear. Fallout is an eye-opening odyssey through the first eight decades of this struggle and the radioactive landscapes it has left behind. We are, he finds, forever torn between technological hubris and all-too-human terror about what we have created.

At first, Pearce reminds us, America loved the bomb. Las Vegas, only seventy miles from the Nevada site of some hundred atmospheric tests, crowned four Miss Atomic Bombs in 1950s. Later, communities downwind of these tests suffered high cancer rates. The fate of a group of Japanese fishermen, who suffered high radiation doses from the first hydrogen bomb test in Bikini atoll, was worse. The United States Atomic Energy Commission accused them of being Red spies and ignored requests from the doctors desperately trying to treat them.

Pearce moves on to explore the closed cities of the Soviet Union, where plutonium was refined and nuclear bombs tested throughout the '50s and '60s, and where the full extent of environmental and human damage is only now coming to light. Exploring the radioactive badlands created by nuclear accidents—not only the well-known examples of Chernobyl and Fukushima, but also the little known area around Satlykovo in the Russian Ural Mountains and the Windscale fire in the UK—Pearce describes the compulsive secrecy, deviousness, and lack of accountability that have persisted even as the technology has morphed from military to civilian uses.

Finally, Pearce turns to the toxic legacies of nuclear technology: the emerging dilemmas over handling its waste and decommissioning of the great radioactive structures of the nuclear age, and the fearful doublethink over the world's growing stockpiles of plutonium, the most lethal and ubiquitous product of nuclear technologies.

For any reader who craves a clear-headed examination of the tangled relationship between a powerful technology and human politics, foibles, fears, and arrogance, Fallout is the definitive look at humanity's nuclear adventure.
Praise For Fallout: Disasters, Lies, and the Legacy of the Nuclear Age…
"Pearce insightfully dissects the profound psychological and political impact nuclear technology has had on humankind and unflinchingly questions whether it might be time to acknowledge that its promises for both energy and defense have been largely unfulfilled."
—Booklist

"In Fallout, Mr. Pearce, a veteran science journalist, travels the world to pin down what he calls 'the radioactive legacies of the nuclear age.' He moves between weaponry and energy, cataloguing mistakes, dishonesty and irrational fears. The result is a panorama of atomic grotesquerie that is at once troubling, surprising and ruthlessly entertaining."
—The Economist

"For any reader who craves a clear-headed examination of the tangled relationship between a powerful technology and human politics, foibles, fears, and arrogance, Fallout is the definitive look at humanity's nuclear adventure."
—Midwest Book Review

"This tour de force by Fred Pearce takes the reader on a riveting journey through nuclear installations and radioactive landscapes around the world. A blend of firsthand reporting and historical research, Pearce's prose reads easily while simultaneously asking the hard questions. The author's penetrating political eye and sober scientific gaze combine to reveal the many reasons, including toxic legacies of fear and deception, that it's time to call an end to the nuclear age. Read this book as if the future depended on it."
—Betsy Hartmann, author of The America Syndrome: Apocalypse, War and Our Call to Greatness
Beacon Press, 9780807092491, 264pp.
Publication Date: May 22, 2018
About the Author
Fred Pearce is an award-winning author and journalist based in London. He has reported on environmental, science, and development issues from 85 countries over the past 20 years. An environment consultant at New Scientist magazine since 1992, he also writes regularly for the Guardian newspaper and Yale University's prestigious e360 website. Pearce was voted UK Environment Journalist of the Year in 2001 and CGIAR agricultural research journalist of the year in 2002, and he won a lifetime achievement award from the Association of British Science Writers in 2011. His many books include Falllout, With Speed and Violence, Confessions of an Eco-Sinner, The Coming Population Crash, and The Land Grabbers.
or
Not Currently Available for Direct Purchase