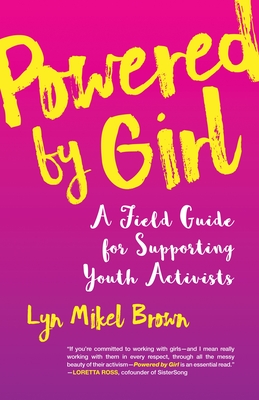 Powered by Girl
A Field Guide for Supporting Youth Activists
Paperback

* Individual store prices may vary.
Description
A playbook for working with and training girls to be activists of their own social movements

Drawing from a diverse collection of interviews with women and girl activists, Powered by Girl is both a journalistic exploration of how girls have embraced activism and a guide for adults who want to support their organizing. Here we learn about the intergenerational support behind thirteen-year-old Julia Bluhm when she got Seventeen to go Photoshop free; nineteen-year-old Celeste Montaño, who pressed Google to diversify their Doodles; and sixteen-year-old Yas Necati, who campaigns for better sex education. And we learn what experienced adult activists say about how to scaffold girls' social-change work. Brown argues that adults shouldn't encourage girls to "lean in." Rather, girls should be supported in creating their own movements—disrupting the narrative, developing their own ideas—on their own terms.
Praise For Powered by Girl: A Field Guide for Supporting Youth Activists…
"When teen activist Julia Bluhm made headlines for challenging digitally altered images of young women in Seventeen magazine, the media omitted mention of her collaboration with adult women from the organization SPARK movement. Brown addresses a problem increasingly voiced within the girls' rights movement; the persistence of a faux-feminist profit-driven 'girl power' image that threatens the coalition between adults and girls that's needed for feminism to thrive. Using real examples of youth activists and the women who support them, she critiques mainstream methods of 'girl empowerment' and offers solutions that go beyond the celebration of individual 'super girls.'"
—Ms.

"A refreshing counterpoint to age-old freakouts about teens' lives, highlighting cool examples of girls who are working to change culture in big ways...this guide shifts the focus away from self-improvement and adults bestowing wisdom on teens and instead centers on ways women and girls can engage with each other as peers, sharing knowledge and shaping an entirely different world."
—Sarah Mirk, Bitch Magazine

"Powered by Girl is for everyone—parents, mentors, and teachers—who work with girls. Even girls 14 and above who want to be activists can get a lot out of reading it. It offers an insight into how we can all work for a social change rooted in intergenerational and inclusive ways."
—Skipping Stones Magazine

"Powered By Girl is inherently, intrinsically, and inevitably intersectional. It doesn't fall victim to easy platitudes about what it's like to fight for change as a girl or a woman, and it doesn't ignore the complexities of difference (age, race, class, sexual orientation, ability, etc.) in these relationships. Intersectionality in supporting girls and fostering effective activism must be intersectional, and it must be collaborative...A must read for any woman even remotely close to being an activist, Powered By Girl demands that girls and women need to work together, learn from each other, and inspire each other to disrupt ingrained systemic injustices and oppression against women—all women. And that's the key. Alone, we are doomed. But together, we are unstoppable."
—Kaitlin Tremblay, Shameless Magazine

"If you're committed to working with girls—and I mean really working with them in every respect, through all the messy beauty of their activism—Powered by Girl is an essential read."
—Loretta Ross, Co-founder of SisterSong

"Highlighting the collective dimensions of girls' activism, Powered by Girl is an important corrective to over-simplified discussions of girls' empowerment. Brown's passionate call for intergenerational collaboration engages with the challenges and rewards of this kind of activism, demonstrates a profound respect for girls' knowledge and expertise, and asks all the right questions about how adults can better support girls in the struggle for a more just world."
—Jessica K. Taft, author of Rebel Girls: Youth Activism and Social Change Across the Americas

"Behind every 'exceptional' girl is...a movement! Kudos to Lyn Mikel Brown for identifying the architecture that lifts up the next generation of feminists!"
—Jennifer Baumgardner and Amy Richards, authors of Manifesta and Grassroots

"If you teach, mentor, or work with girls, you need to read Powered by Girl. Full of stories and strategies, it's a must-read manual for nurturing agency, sisterhood, and critical consciousness in girl activists. Adults will learn when to step up and when to step back, how to cultivate inclusiveness and truth telling among girls, and how to develop the most fertile conditions for girl activism to flourish."
—Rachel Simmons, author of Odd Girl Out and The Curse of the Good Girl

"I am a huge fan of Lyn Mikel Brown's; her partnerships with girls and support of their activism are nothing short of revolutionary. Powered by Girl explains how she joined forces across generations to make change—and, even better, how we can too!"
—Peggy Orenstein, author of Girls & Sex: Navigating the Complicated New Landscape

"Brown offers us a powerful and urgent critique of the media generated 'kick-ass girl,' a mythical girl who supposedly needs no one but herself to change the world. Behind the scenes, Brown shows us how real girls and women can truly kick some ass by working together on jointly constructed actions for social justice. An essential read for those who want to create a more just and humane world and want girls and women to lead the way. Read it right here, right now!"
—Niobe Way, author of Deep Secrets: Boys' Friendship and the Crisis of Connection

"In this bold, inspiring book, Lyn Mikel Brown investigates the realities and possibilities of intergenerational activism—and does not shrink from the challenges. A blueprint for intergenerational feminist work, Powered by Girl offers multiple strategies for adult women to build hopeful, respectful activist relationship with girls, all the while acknowledging the complexities of grassroots politics today."
—Anita Harris, Research Professor, Institute for Citizenship and Globalisation, Deakin University

"The development of honest dialogues between adult allies and girls is the key to social change—and recognizing that girls are the most qualified experts of their experiences is critical to their activism. Lyn Mikel Brown's book accurately captures the benefits—and challenges—of how to nurture our next generation of change agents."
—Clarice Bailey and Charlotte Jacobs, Girls Justice League

"Powered by Girl is a godsend for everyone who parents or works with girls. Girls are passionate about making the world a better place. But when they try to do so, obstacles appear that adults need to help with. Lyn Mikel Brown shows us how and challenges us to go far beyond vague good intentions by building genuine, respectful, mutually trusting relationships that succeed in making change both out in the world and inside ourselves."
—Nancy Gruver, Founder, New Moon Girls

"Powered by Girl is the essential manual for anyone working with young activists—from youth workers to seasoned mentors. Lyn Mikel Brown presents the necessary skills for adult allies to be supportive and effective backseat drivers while girls do the steering."
—Wendy Lesko, President of Youth Activism Project and Co-Founder of School Girls Unite

"In an increasingly commodified feminist movement, Powered by Girl offers insight into how girls and young women can reimagine a movement rooted in political activism, and gives activists the tools to do so in an intergenerational and inclusive way."
—Julie Zeilinger, Founding Editor, FBomb

"Powered by Girl is a compelling narrative and rationale for feminist intergenerational practices with girls, dismantling ageist models of girls' programming, and making visible the diverse ways coalitions of girls and their allies are pushing forward a new feminist agenda. An important book for all interested in girls' studies and girls' activism."
—Amy Rutstein-Riley, PhD, MPH, Principal Investigator of The Girlhood Project at Lesley University
Beacon Press, 9780807094600, 216pp.
Publication Date: September 13, 2016
About the Author
Lyn Mikel Brown has been studying and working with girls for more than twenty-five years. A professor of education and human development at Colby College, she is the author of five previous books about gender and girlhood, and is the cofounder of three grassroots organizations.