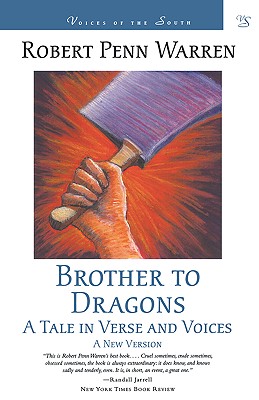 Brother to Dragons: A Tale in Verse and Voices (Paperback)
A Tale in Verse and Voices
LSU Press, 9780807121238, 148pp.
Publication Date: October 1, 1996
Description
The significantly revised version of Brother to Dragons appeared in 1979, twenty-six years after the original. It is, Warren wrote, "in some important senses, a new work". Told in the distinct voices of characters long dead and now gathered at an unspecified place and time, the poem recalls events leading to and resulting from the 1811 murder of a young slave by Thomas Jefferson's nephew. "R.P.W". is the narrator of the versified tale, whose poignant ending brings not only reconciliation among the ghostly figures but healing for Warren's persona as well.

About the Author
Robert Penn Warren (1905--1989) -- an acclaimed novelist, poet, critic, and teacher, and the author of dozens of books -- was the only writer ever to receive Pulitzer Prizes in both fiction and poetry.
Advertisement