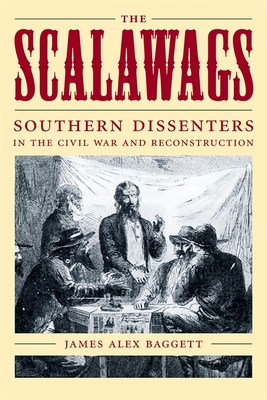 The Scalawags (Paperback)
Southern Dissenters in the Civil War and Reconstruction (Media and Public Affairs)
LSU Press, 9780807130148, 323pp.
Publication Date: September 1, 2004
* Individual store prices may vary.
Description
In The Scalawags, James Alex Baggett ambitiously uncovers the genesis of scalawag leaders throughout the former Confederacy. Using a collective biography approach, Baggett profiles 742 white southerners who supported Congressional Reconstruction and the Republican Party. He then compares and contrasts the scalawags with 666 redeemer-Democrats who opposed and eventually replaced them. Significantly, he analyzes this rich data by region -- the Upper South, the Southeast, and the Southwest -- as well as for the South as a whole. Baggett follows the life of each scalawag before, during, and after the war, revealing real personalities and not mere statistics. Examining such features as birthplace, vocation, estate, slaveholding status, education, political antecedents and experience, stand on secession, war record, and postwar political activities, he finds striking uniformity among scalawags. This is the first Southwide study of the scalawags, its scope and astounding wealth in quantity and quality of sources make it the definitive work on the subject.
About the Author
James Alex Baggett, retired dean and professor of history of Union University in Tennessee, lives in Atlanta. He is the author of two previous books, A History of Jackson Clinic and So Great a Cloud of Witnesses: Union University, 1823--2000.