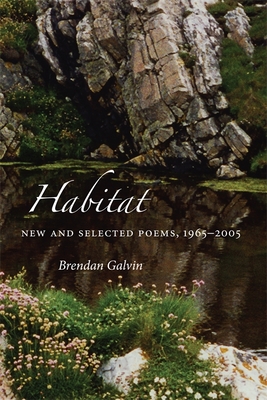 Habitat
New and Selected Poems, 1965-2005
Paperback

* Individual store prices may vary.
Other Editions of This Title:
Hardcover (4/1/2005)
Description
A master craftsman who seamlessly combines vision and contemplation, Brendan Galvin is considered among the most powerful naturalist poets today. Habitat, Galvin's fourteenth poetry book, combines eighteen new works with lyric pieces from the past forty years -- including two book-length narratives, Wampanoag Traveler and Saints in Their Ox-Hide Boat. In a voice of quiet authority leavened with humor, Galvin intimately conveys his landscapes, birds and animals, people, and weather. By elevating the commonplace to the crucial, he takes his readers very far from the familiar.Habitat offers an opportunity to trace a remarkable poetic career. In their richly various shapes, colors, textures, and strategies, Galvin's poems bear witness to matters both joyful and intractable.Full of noose-around-the-neck wisecracks,
you'd have been an unwilling toiler,
envying the horse its stamina,
the hare its jagged speed over broken
fields, and bog cotton its deference to wind
on peatlands against blue mountains,
where it crowds white-headed
as ancient peasants herded off the best
grazing, enduring as if they'd do better
as plants hoarding minerals through winter,
hairy prodigals spinning existence from clouds,
from mistfall two days out of three, the odd
shoal of sun drifting across.
-- from A Neolithic Meditation.
LSU Press, 9780807130476, 250pp.
Publication Date: April 1, 2005
About the Author
Brendan Galvin is the author of fourteen poetry books, most recently Placekeepers and The Strength of a Named Thing. His poems have appeared more than six hundred times in anthologies and magazines, including the New Yorker, Atlantic Monthly, New Republic, Harper's Magazine, Nation, Paris Review, and Poetry. He has received, among other awards and honors, the O. B. Hardison Prize from the Folger Shakespeare Library, the Sotheby Prize of the Arvon Foundation, the Charity Randall Citation from the International Poetry Forum, Poetry magazine's Levinson Prize, two NEA fellowships, and a Guggenheim fellowship. He lives in Truro, Massachusetts.