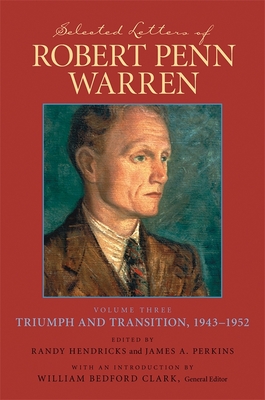 Selected Letters of Robert Penn Warren (Hardcover)
The "southern Review" Years, 1935--1942 (Southern Literary Studies)
Louisiana State University Press, 9780807130858, 485pp.
Publication Date: January 1, 2006
* Individual store prices may vary.
Description
A generous selection of Warren's letters from one of the most significant decades of his career This collection of largely previously unpublished letters and newly discovered material provides an indispensable glimpse of Robert Penn Warren, the writer and the man. It documents Warren's time at the University of Minnesota, his writing and publication of the Pulitzer Prize - winning novel All the King's Men, his appointment as Consultant in Poetry at the Library of Congress, and his divorce from Emma Cinina Brescia and subsequent marriage to the writer Eleanor Clark. The period 1943-52 also saw the publication of A Poem of Pure Imagination; World Enough and Time; The Ballad of Billie Potts; At Heaven's Gate; and Selected Poems, 1923-1943. Warren's letters shed new light on those works, on his close relationship with his editors, and on his collaboration on the movie production of All the King's Men, which received the Academy Award for best picture in 1949. His ever-widening influence on the literary world is clearly shown. Warren in an extraordinary phase in his life and career, making many commitments at once yet pursuing them all with a seemingly boundless energy.
About the Author
Randy Hendricks is a professor of English at the University of West Georgia in Carrollton. He is the author of Lonelier Than God: Robert Penn Warren and the Southern Exile and a collection of short stories, The Twelfth Year and Other Times. He is also the coeditor of For the Record: A Robert Drake Reader.James A. Perkins is the editor of The Cass Mastern Material: The Core of Robert Penn Warren's "All the King's Men" and coeditor of Robert Penn Warren's "All the King's Men": Three Stage Versions; For the Record: A Robert Drake Reader; Southern Writers at Century's End; and the poetry collection Brother Enemy: Poems of the Korean War. A professor of English at Westminster College in New Wilmington, Pennsylvania, he is also the author of the short-story collection Snakes, Butterbeans, and the Discovery of Electricity. William Bedford Clark is a professor of English at Texas A&M University, the author of The American Vision of Robert Penn Warren, and the editor of Volumes One and Two of the Selected Letters of Robert Penn Warren.