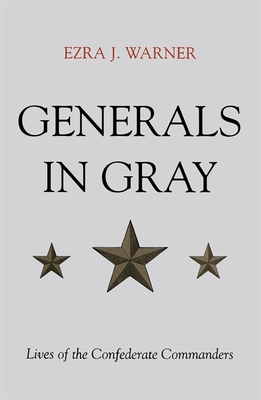 Generals in Gray (Paperback)
Lives of the Confederate Commanders
Louisiana State University Press, 9780807131503, 420pp.
Publication Date: April 15, 2006
* Individual store prices may vary.
Description
When Generals in Gray was published in 1959, scholars and critics immediately hailed it as one of the few indispensable books on the American Civil War. Historian Stanley Horn, for example, wrote, "It is difficult for a reviewer to restrain his enthusiasm in recommending a monumental book of this high quality and value." Here at last is the paperback edition of Ezra J. Warner's magnum opus with its concise, detailed biographical sketches and -- in an amazing feat of research -- photographs of all 425 Confederate generals. The only exhaustive guide to the South's command, Generals in Gray belongs on the shelf of anyone interested in the Civil War.
About the Author
?Ezra J. Warner (1910--1974) was also the author of Generals in Blue. A native of Lake Forest, Illinois, he lived in La Jolla, California, and was well known for his work in Civil War biography.