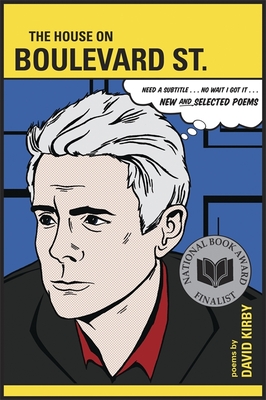 The House on Boulevard St.: New and Selected Poems (Paperback)
New and Selected Poems
Louisiana State University Press, 9780807132159, 153pp.
Publication Date: March 1, 2007
Description
This collection contains new poetry alongside some of David Kirby's most beloved poems. Most of the poems are long narratives written in prose form, and all of the poems are marked by fixed-length stanzas and sawtooth margins. Kirby's writing is often touching and always laugh-out-loud funny. Inspiration for these poems came from the literary giants William Shakespeare, Dante Alighieri, and Walt Whitman. In fact, Kirby has chosen to organize these poems into three sections echoing Dante's organization of The Divine Comedy. The writing is largely autobiographical and deals with the restlessness of youth, the mixed blessings of imposed self-exile, and the settled pleasure of home.

About the Author
The Robert O. Lawton Distinguished Professor of English at Florida State University, David Kirby is the author of numerous books, including the poetry collections The Ha-Ha and The House of Blue Light. He is a recipient of the Brittingham Prize in Poetry and a Guggenheim fellowship, among other honors. He and his wife, poet Barbara Hamby, live in Tallahassee.
Advertisement