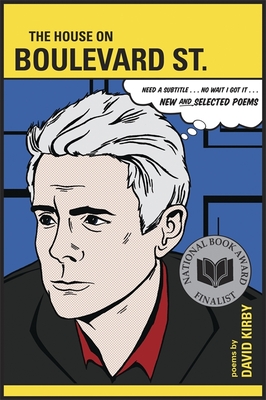 The House on Boulevard St. (Paperback)
New and Selected Poems (Southern Messenger Poets)
Louisiana State University Press, 9780807132159, 153pp.
Publication Date: March 1, 2007
* Individual store prices may vary.
Description
The poems in The House on Boulevard St. were written within earshot of David Kirby's Old World masters, Shakespeare and Dante. From the former, Kirby takes the compositional method of organizing not only the whole book but also each separate section as a dream; from the latter, a three-part scheme that gives the book rough symmetry. Long-lined and often laugh-out-loud funny, Kirby's poems are ample steamer trunks into which the poet seems to be able to put just about anything--the heated restlessness of youth, the mixed blessings of self-imposed exile, the settled pleasures of home. As the poet Philip Levine says, "The world that Kirby takes into his imagination and the one that arises from it merge to become a creation like no other, something like the world we inhabit but funnier and more full of wonder and terror. He has evolved a poetic vision that seems able to include anything, and when he lets it sweep him across the face of Europe and America, the results are astonishing.
About the Author
The Robert O. Lawton Distinguished Professor of English at Florida State University, David Kirby is the author of numerous books, including the poetry collections The Ha-Ha and The House of Blue Light. He is a recipient of the Brittingham Prize in Poetry and a Guggenheim fellowship, among other honors. He and his wife, poet Barbara Hamby, live in Tallahassee.