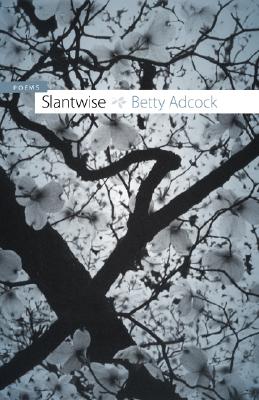 Slantwise (Hardcover)
Poems
Louisiana State University Press, 9780807133095, 83pp.
Publication Date: March 1, 2008
Other Editions of This Title:
Paperback (3/1/2008)
* Individual store prices may vary.
Description
Leaning toward Emily Dickinson's advice to tell it slant, the poems in Betty Adcock's Slantwise approach our losses, including such disasters as September 11 and the crash of the space shuttle Columbia, through happenings outside the public view -- asides, as it were, from the primary moment. The title faintly echoes American slang, as in "wisecrack," which might be applied to poems here that skewer literary critics, human self-regard, and the poet herself. Reflecting also the folk speech of Adcock's native East Texas, where much of her work has been set, the title suggests a middle way among images of rising and falling, tropes that can confound the directions of grief and praise.
From the strangely epic fall of one longleaf pine needle in deep woods to the widening contexts of the Twin Towers' collapse and a spacecraft's deadly descent, from the lyric rising of light out of earthly things to the lyric rise of a dancing arborist and a clowning roustabout, these poems mourn, celebrate, rage, and remember. Slantwise fulfills the hope Adcock once expressed in an interview: "to tell the truth and find that it is music."
from "Asides"And in countries made of blood-feud and sand, didn't women turn from murmured prayerstoward the sky's answer, blank bluepoint-blank burning glass?
And here, as in the slant light of every September, caterpillars moved slowly along the turning leaves;the cricket opened and shut his rusted doorinto autumn; one particular firefly went out, the last low star of the season, indifferentas a nova to what men have made. Our marvelouslooking-glass holds, in its network of steeland invisible signal, history and mythand money laid across the world.That great snare shines in its cableslike the orb-weaver's art, trembles fragileas any web on night grass in a field of starlight.
About the Author
Betty Adcock is the author of five books of poetry: Intervale, The Difficult Wheel, Beholdings, Nettles, and Walking Out. A recipient of two Pushcart Prizes, the Poets' Prize, the North Carolina Medal for Literature, the Texas Institute of Letters Prize for Poetry, the Hanes Award from the Fellowship of Southern Writers, and Guggenheim Fellowship, Adcock teaches in the Warren Wilson College MFA Program for Writers.
or
Not Currently Available for Direct Purchase