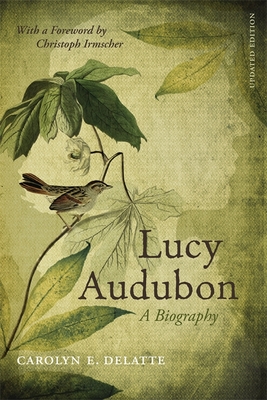 Lucy Audubon (Paperback)
A Biography (Southern Biography)
Louisiana State University Press, 9780807133811, 248pp.
Publication Date: September 1, 2008
* Individual store prices may vary.
Description
Wife of the great naturalist John James Audubon, Lucy Bakewell Audubon (1788-1874) was a powerful and extraordinary woman who coped resourcefully with the demands of a difficult situation and worked tirelessly to aid her husband in his landmark work. In Lucy Audubon: A Biography, Carolyn E. DeLatte focuses on the early life of Lucy Audubon: her birth in England and youth in eastern Pennsylvania, her courtship and marriage to the eccentric young Audubon, their wanderings along the western fringe of the country, the birth of their children, and the preparation and publication of The Birds of America. Throughout, DeLatte emphasizes Lucy Audubon's own experiences, concerns, and point of view. She tells of Lucy's often stormy relationship with her brilliant but unreliable husband, her place at the head of their small family, and her crucial role in the creation and publication of her husband's magnum opus. Intelligent, adaptable, and strong-willed, Lucy was, DeLatte shows, the partner Audubon needed for his life and for his work. As noted Audubon expert Christoph Irmscher says in his foreword, "When DeLatte] slips into her character's skin, she does so unobtrusively and to great effect--thus, we are right there with Lucy.
About the Author
Carolyn E. DeLatte was a professor of history at McNeese State University in Lake Charles, Louisiana.Christoph Irmscher is the author or editor of several books, including John James Audubon: Writings and Drawings and The Poetics of Natural History: From John Bartram to William James.