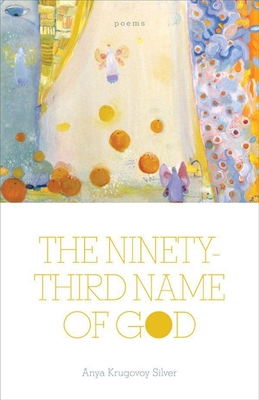 The Ninety-Third Name of God (Paperback)
Poems (LSU Press Paperback Original)
Louisiana State University Press, 9780807136904, 63pp.
Publication Date: October 1, 2010
* Individual store prices may vary.
Description
Anya Krugovoy Silver's debut collection considers the flawed and gaudy flesh as it turns toward a beloved's embrace, toward the surgeon's knife. Her poems both celebrate the sensual world and seek to transcend the body's limitations through encounters with art, memory, and the divine. At once imagistic, lyrical, and meditative, Silver's verse begins in the personal sphere and then looks outward toward the wider human experiences of illness, faith, fear, and love. From chemotherapy to doing laundry, from observation of deformed pussy willows to contemplation of the word "girl," Silver does not shrink from life's "blazonry of loss." Instead, she ultimately affirms the possibility of praise and joy.
About the Author
Anya Krugovoy Silver is an associate professor of English at Mercer University in Macon, Georgia. She has published poetry in numerous journals, including Image, New Ohio Review, Witness, Prairie Schooner, Christian Century, Christianity and Literature, Anglican Theological Review, and others.