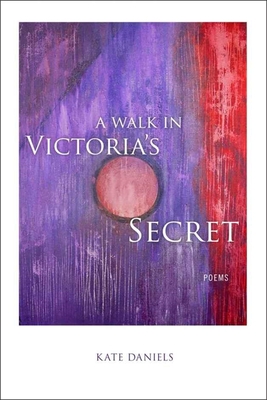 A Walk in Victoria's Secret
Poems (Southern Messenger Poets)
Paperback

* Individual store prices may vary.
Description
With A Walk in Victoria's Secret, Kate Daniels crafts a bold, brassy, yet delicate vision of a woman's growth. Imbued with a unique poetic voice that is utterly feminist, these poems possess a fiery intensity for those abuses no woman can ever quite recover from, but also reveal the loving, forgiving temperament of the mother no woman can do without. From the title poem's unapologetic celebration of the breast to a belated apology to the girl who integrated her elementary school, to the awkward juxtaposition of elderly and young women in a gynecologist's office on September 11, 2001, Daniels provides a rich array of meditations on what it means to be a woman in our time. Buoyant and entertaining, singular in style, and exuberant in language, A Walk in Victoria's Secret offers an intimate look at women's experiences.
Louisiana State University Press, 9780807137062, 78pp.
Publication Date: November 1, 2010
About the Author
Kate Daniels is the author of three previous collections of poetry, including Four Testimonies. An associate professor of English at Vanderbilt University, she is the recipient of the Hanes Award for Poetry from the Fellowship of Southern Writers and lives in Nashville, Tennessee.