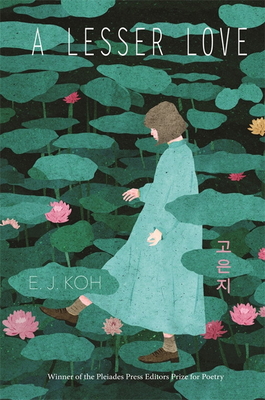 A Lesser Love (Paperback)
Poems
LSU Press, 9780807167779, 80pp.
Publication Date: October 1, 2017
Description
A Lesser Love presents poems of love and departure for romantic partners, family members, and even national citizens. Raised around diasporic Korean communities, E. J. Koh describes her work as deeply influenced by the idea of jeong, which can be translated as a deep attachment, bond, and reciprocity for places, people, and things. The spirit of jeong permeates this collection as each poem draws astonishing connections and illuminates the bonds that hold across time and place.
With evocative lyricism, Koh mixes the languages of science and emotion to compose some poems like chemistry equations that convert light into "reasonable dioxide" and then further transmogrify the formula into a complex understanding of the parent-child relationship. Through this alchemy the poet allows readers to see through the eyes of mothers, fathers, daughters, aunts, friends, and lovers: we see the tragedy of a sinking ferry, the hypocrisies of government agencies, the aftermath of war, and a very wide view through the Hubble space telescope. Demonstrating an ability to elicit profound emotional intensity, Koh crafts a book of poems that challenge, delight, and enrich.
About the Author
E. J. Koh's poems have appeared in World Literature Today, TriQuarterly, Southeast Review, Pleiades, Columbia Review, Narrative Magazine, Berkeley Poetry Review, and Privacy Policy: The Anthology of Surveillance Poetics (Black Ocean Press, 2014). She has received fellowships from Kundiman, The MacDowell Colony, Napa Valley's Writers' Conference, Vermont Studio Center, Hannah J. Caldwell Excellence Award, Nadya Aisenberg Grant, and the Jack Straw Writers Program. She earned her MFA at Columbia University in New York for Creative Writing and Literary Translation. She has taught at University of Washington, Seattle University, Portland Community College, and the Richard Hugo House in Seattle.
Advertisement