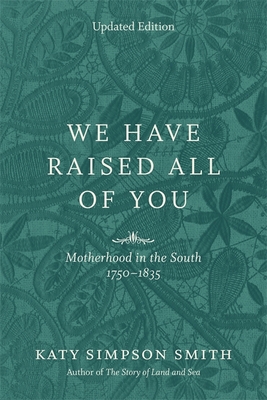 We Have Raised All of You
Motherhood in the South, 1750-1835
Paperback

* Individual store prices may vary.
Other Editions of This Title:
Hardcover (11/4/2013)
Description
White, black, and Native American women in the early South often viewed motherhood as a composite of roles, ranging from teacher and nurse to farmer and politician. Within a multicultural landscape, mothers drew advice and consolation from female networks, broader intellec-tual currents, and an understanding of their own multifaceted identities to devise their own standards for child rearing. In this way, by con-structing, interpreting, and defending their roles as parents, women in the South maintained a certain degree of control over their own and their children's lives. Focusing on Virginia and the Carolinas from 1750 to 1835, Katy Simpson Smith's widely praised study examines these maternal practices to reveal the ways in which diverse groups of women struggled to create empowered identities in the early South.
We Have Raised All of You
contributes to a wide variety of historical conversations by affirming the necessity of multicultural--not simply bi-racial--studies of the American South. Its equally weighted analysis of white, black, and Native American women sets it distinctly apart from other work. Smith shows that while women from different backgrounds shared similar experiences within the trajectory of motherhood, no universal model holds up under scrutiny. Most importantly, this book suggests that parenthood provided women with some power within their often-circumscribed lives. Alternately restricted, oppressed, belittled, and enslaved, women sought to embrace an identity that would give them some sense of self-respect and self-worth. The rich and varied roles that mothers inherited, Smith shows, afforded women this empowering identity. This paperback edition includes a new preface by Smith that examines the power of storytelling, and the ways in which we think and talk about the past. No one, she suggests, is better suited to tell our collective story than our mothers.
LSU Press, 9780807169254, 368pp.
Publication Date: February 19, 2018
About the Author
Katy Simpson Smith, a resident of New Orleans, received her doctorate in history from the University of North Carolina at Chapel Hill. She is also the author of two novels, The Story of Land and Sea and Free Men.