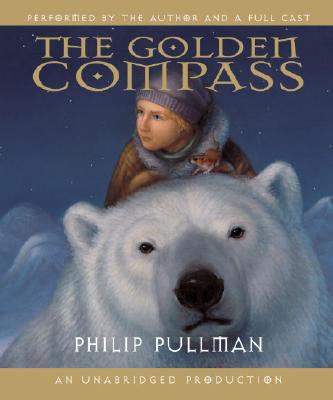 His Dark Materials
The Golden Compass (Book 1)
CD-Audio

* Individual store prices may vary.
Other Editions of This Title:
Digital Audiobook (9/22/2003)
Paperback (5/22/2001)
Hardcover (6/22/2021)
Paperback (9/10/2002)
Hardcover (4/16/1996)
Paperback (10/1/2019)
Compact Disc (10/24/2006)
Description
Read by the author and a full cast
10 hours, 49 minutes
9 CDs

When Lyra and her daemon Pantalaimon decide to spy on a presentation her uncle, the commanding Lord Asriel, is making to the elders of Jordan College they have no idea that they will become witnesses to an attempted murder—and even less that they are taking the first steps in a journey that will lead them into danger and adventure unlike anything Lyra's unfettered imagination has conjured up.

Though she has been reised at the college in an atmosphere of benign neglect that has allowed her to become a half-wild child of the streets, Lyra soon finds herself apprenticed to the elegant Mrs. Coulter—and in possession of a strange device called the alethiometer, a "golden compass" that reads not true worth, but truth itself.

But truth is a precious commodity, and before long Lyra and Pan are running for their lives, the object of an obsessive hunt by mysterious forces who have been stealing children for dark purposes that no one understands. Lyra will need all her street-learned wiles if she and Pan are to survive.

An international sensation from the moment it was published, The Golden Compass comes to spectacular new life in this unabridged recording, narrated by Philip Pullman himself, with the support of some of the finest actors of the London stage.
Praise For His Dark Materials: The Golden Compass (Book 1)…
"As always, Pullman is a master at combining impeccable characterizations and seamless plotting, maintaining a crackling pace to create scene upon scene of almost unbearable tension. This glittering gem will leave readers of all ages eagerly awaiting the next installment of Lyra's adventures."—Publishers Weekly, Starred

"Extraordinary storytelling at its very best."—The Detroit Free Press

"Superb . . . all-stops-out thrilling."—The Washington Post
Listening Library, 9780807204719
Publication Date: September 28, 2004
About the Author
PHILIP PULLMAN is one of the most acclaimed writers working today. He is best known for the His Dark Materials trilogy, which has been named one of the top 100 books of all time by Newsweek and one of the all-time greatest novels by Entertainment Weekly. Pullman was knighted for his services to literature in the 2019 New Year Honours.

The Book of Dust, Pullman's eagerly anticipated return to the world of His Dark Materials, will also be a book in three parts. It began with La Belle Sauvage and continues with The Secret Commonwealth.

Philip Pullman is the author of many other beloved novels. For younger readers: I Was a Rat!, Count Karlstein, Two Crafty Criminals!, Spring-Heeled Jack, and The Scarecrow and His Servant. For older readers: the Sally Lockhart quartet (The Ruby in the Smoke, The Shadow in the North, The Tiger in the Well, and The Tin Princess), The White Mercedes, and The Broken Bridge. He has written a magnificent collection, Fairy Tales from the Brothers Grimm, and his essays and lectures on writing and storytelling have been gathered in a volume called Dæmon Voices: On Stories and Storytelling.

Philip Pullman lives in Oxford, England.